Supporting Dr Tahir-ul-Qadri duty of Ulama: Allama Nazakat Golarvi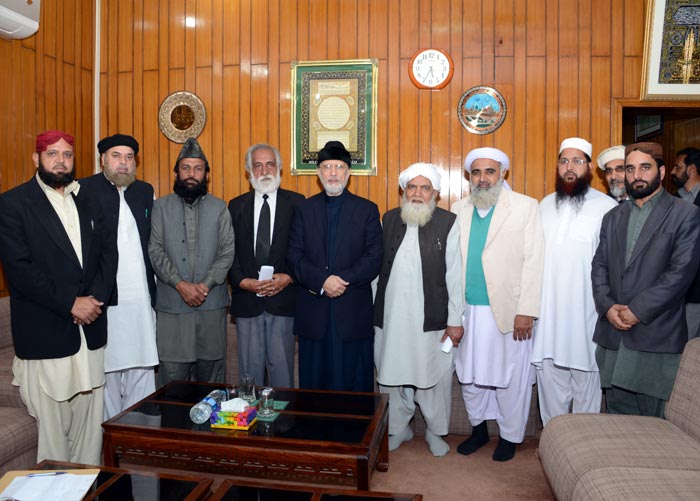 Dr Muhammad Tahir-ul-Qadri's struggle is for revival of lost glory of the Muslim community and he has been instrumental in exposing the real faces of tax evaders, defaulters and corrupt elements. We regard the agenda of electoral reforms given by Dr Qadri as central to Pakistan's survival and extend it our all-out support.
These views were expressed by Allama Nazakat Hussain Golarvi of Golra sharif during his meeting with Dr Muhammad Tahir-ul-Qadri in MQI's secretariat. He was leading a high-level delegation, which comprised Allama Syed Muhammad Nisar, Safdar Advocate, and Maulana Muhammad Saeed Toonsvi. Allama Syed Farhat Hussain Shah and Allama Mir Asif Akbar of Minah-ul-Quran Ulama Council were also present on the occasion.
Allama Nazakat Golarvi said that it was both need of the hour and voice of the conscience that Dr Tahir-ul-Qadri should be supported. He said that it was our duty to join him as his worker in his mission to make Pakistan into a country for the poor and disadvantaged sections of society. He asked the religious scholars to get together under the leadership of Dr Qadri and work for the country's security, stability and prosperity.
Speaking on this occasion, Dr Muhammad Tahir-ul-Qadri said that a big convention of religious scholars and Mashaykh would be held after his return from Canada. He said that in the given set of circumstances, heavy responsibility rested on the shoulders of the religious scholars and Mayshaykh to play their role for the country's well-being and prosperity. He said that they should awaken those in slumber and apprise them of their national obligations.