MWF rejects allegations of misuse of funds
Raja Jamil Ajmal, Deputy Director of Minhaj Welfare Foundation, has said that the Foundation (MWF) is working for the welfare of suffering humanity throughout the world under the leadership of Dr Muhammad Tahir-ul-Qadri. He said that those driven by prejudices and political vested interests had unfairly been targeting this humanitarian and welfare organization, which was unfortunate.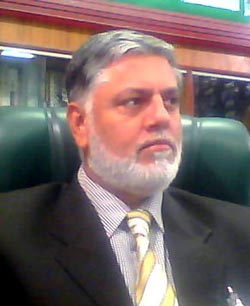 Raja Jamil strongly rejected the allegations made by one Barrister Amjad Malik, adding that they were baseless and had nothing to do with reality. He said that Mr. Amjad was a political worker of a party who was acting at the behest of his masters. He said that Mr. Malik was a legal advisor to CM Punjab in England and had close relations with Mian brothers. He said that he was often seen hobnobbing with them during their foreign trips.
MWF Deputy Director made it clear that there was no truth in the allegation that bullet-proof vehicle was purchased with the funds of MWF. He said that this was baseless accusation. He said that MWF strongly rejected such false accusations. He said that MWF, a worldwide human welfare organization, was working to help those in distress without any discrimination of caste, creed, colour or race.
Raja Jamil Ajmal stated emphatically that donations collected by MWF were strictly spent on welfare projects and there was no question of their being used for political purposes. He said that the donations were not even used on administrative and organizational matters of MQI. He said that Amjad Malik's allegations were just pack of lies. He bemoaned the fact that the people had stooped so low as to target a welfare organization just to achieve their nefarious agendas.