Movement of change has become movement of revolution: Dr Hussain Mohi-ud-Din Qadri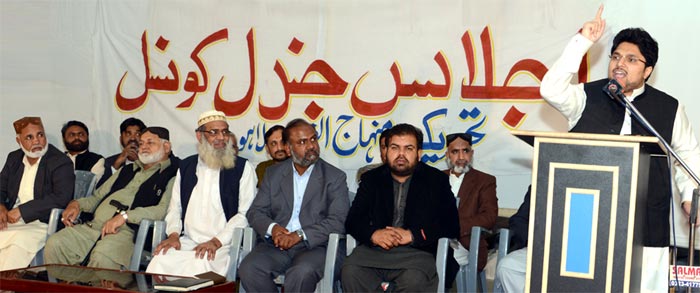 Dr Hussain Mohi-ud-Din Qadri, President of MQI's Federal Council, has said that Pakistan was not established for the privileged ruling elite but for the poor Muslims. He said that feudal lords, industrialists, inept and corrupt politicians and the moneyed classes had been playing with the destiny of this nation for last 65 years. He said that the movement of change, which started on December 23, had become revolution now. He further added that the historic public meeting on March 17 in Rawalpindi would prove to be a watershed as the poor would get together under the leadership of Dr Muhammad Tahir-ul-Qadri to give forces of status quo run for their money.
Dr Hussain Mohi-ud-Din Qadri expressed these views while addressing a meeting of General Council of Minhaj-ul-Quran International (Lahore chapter) and Pakistan Awami Tehreek (Lahore chapter) in central secretariat in Lahore today. The meeting was attended by Irshad Tahir, President of MQI Lahore chapter, Ch Afzal Gujjar, President of PAT Lahore chapter, Hafizullah Javed, Shahzad Qadri, Ramzan Ayubi, Altaf Randhawa, Sanaullah Khan in addition to hundreds of workers from Tehsils and Towns of Lahore.

Dr Hussain said that the tears of the poor, sufferings of widows, and the underprivileged sections of society were the source of support for Dr Tahir-ul-Qadri. He said that Liaqat Bagh of Rawalpindi would witness a rare show of people's power when the hundreds of thousands of them would come together to press their demand for change. He said that the workers of PAT and MQI did justice to their 32-year old companionship with Dr Tahir-ul-Qadri in his struggle for supremacy of Constitution, law and strengthening of democracy in the country. He said that historic public meetings and Long March which were attended by hundreds of thousands of people proved that Pakistani people were not only peaceful but also civilized but the problem was that they could not get a civilized leadership to lead them out of multiple crises they were stuck up in.
Dr Hussain Mohi-ud-Din Qadri said that if the nation got the leadership of Dr Tahir-ul-Qadri, they could restore their lost glory and esteem. He said that discipline and organization of workers of PAT and MQI were worthy of emulation by other political parties. Addressing the workers, He said that Dr Tahir-ul-Qadri injected democratic spirit in his workers and devolved powers to the grassroots of the party's hierarchy. He said that it was for this reason that the workers felt engaged in the decision making which was carried out through open consultations instead of close door meetings.
Dr Hussain said that the historic struggle launched by Dr Tahir-ul-Qadri, which was aimed at making the Election Commission independent, powerful and impartial, was need of the hour. He however added in the same context that the way the ECP was backtracking from its previously held positions served to expose a heinous conspiracy against the people. He warned that if the Election Commission continued to budge, the authenticity and fairness of the upcoming polls would be severely questioned and the country would be put in abyss of disaster.
He said that Dr Tahir-ul-Qadri would unfold more facts in this regard on March 17, which would open the eyes of the people and raise their awareness. Ch Afzal Gujjar and Irshad Tahir also addressed the meeting.