Failure to revisit homeland security doctrine a grave mistake: Dr Tahir-ul-Qadri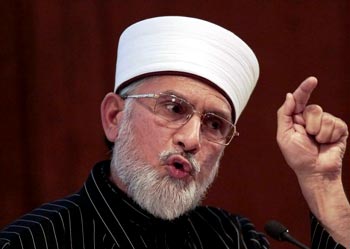 Condemning in the strongest possible words the terrorist attack in Peshwar, Dr Muhammad Tahir-ul-Qadri has said that terrorists are neither Muslims nor humans. He said that they were collective enemy of Pakistan, Islam and humanity. He said that there was no space for terrorism in Islam. He said that the entire society was burning in the fire of terrorism and extremism and there was no policy prescription on the offer to deal with the menace.
Dr Muhammad Tahir-ul-Qadri said that the entire world revisited and revised their doctrines of homeland security after the genie of terrorism was out. He regretted that Pakistan, despite being in the frontline of terrorism, failed to undertake any reassessment of new factors shaping national security. He said that passage of Anti-Terrorism Act 2013 was a belated attempt to ensure conviction of those charged with terrorism-related offences. He said that absence of effective anti-terrorism policy was responsible for terrorism mayhem the country had to undergo for ten years.
Meanwhile, PAT President Dr Raheeq Abbasi also condemned the Peshwar bomb blast and demanded of the government to apprehend those responsible for this heinous act. He prayed to Allah Almighty to rest the departed souls in peace and give patience to the bereaved families to bear irreparable loss of their near and dear ones.