Dr Tahir-ul-Qadri to present national agenda today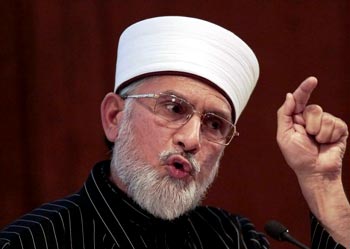 The people have started to reach historic Liaquat Bagh from various parts of the country to listen to Dr Muhammad Tahir-ul-Qadri ahead of scheduled time of the meeting. The analysts have tipped the PAT's show of power to be the biggest in the history of city. It is being expected that the hundreds of thousands of people would attend the public meeting and join hands with PAT and its leadership in their struggle for change in the country.
In his keynote address on the occasion, Dr Muhammad Tahir-ul-Qadri would announce PAT's course of action whether to take part in elections or stay away and struggle for change through other democratic means. He would also present a national agenda encompassing practical solution of the problems facing the country. Media and people are eager to listen to Dr Qadri's message.
Dr Tahir-ul-Qadri has emerged as a great advocate of electoral reforms ahead of next parliamentary elections. He has identified the corrupt, pro-elite and exclusive system as the major reason responsible for the present state of affairs the country finds itself in. His speech in Liaquat Bagh is being keenly awaited.