I will announce an agenda of change: Dr Tahir-ul-Qadri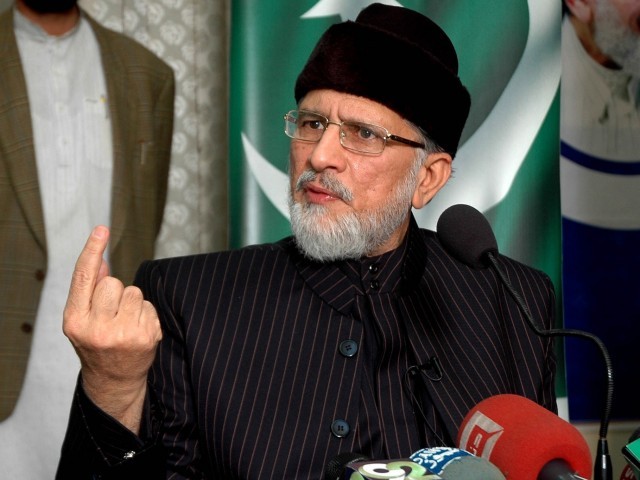 Dr Muhammad Tahir-ul-Qadri has said that the Election Commission is deceiving the people as it has given a safe passage to loan defaulters and tax evaders in the new nomination forms. He said that these forms would offer a new window of opportunity to the corrupt elements. He said that the ECP was violating the Supreme Court's judgment of 8th June, 2012, while the impression being created was that the preparations were being made to hold fair, free and transparent elections in the country.
Dr Tahir-ul-Qadri said that the pre-poll rigging was at its peak and the orders of the ECP were being violated with abandon. He expressed these views while addressing a meeting of PAT's Executive Council yesterday. PAT President Dr Raheeq Abbasi, Secretary General Khurram Nawaz Gandapur, Bishrat Aziz Jaspal, Fayyaz Warriach, Hanif Ch and other leaders were present on the occasion.
Dr Tahir-ul-Qadri said that he would unveil many facts before the nation in the Rawalpinid public meeting. He said that he would announce a comprehensive plan of action aimed at bringing about real change in the country. He said that the public moot would be a landmark event on March 17 in the struggle for establishment of real democracy in the country. He said that it was unprecedented that one hundred thousand people were recruited in Sindh while the Punjab government also regularized the services of millions of its employees, days ahead of dissolution of assemblies. He said that the government employees were transferred at a massive scale. He pointed out that recruitments and transfer of officials were pre-poll rigging which warranted intervention from the Election Commission but the latter was inactive and deaf on this count.
Dr Qadri said that through its conduct, the ECP had proven that it was constituted illegally as a result of politics of deal making. He said that he wanted to take the nation into confidence that elections without reforms would be a big fraud with them.