Qadri sees no change without purging present set-up
Business Recorder
Wednesday, 20 March 2013 00:48
Posted by Imaduddin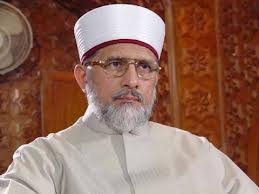 LAHORE: Pakistan Awami Tehrik (PAT) Chief Dr Muhammad Tahirul Qadri said on Tuesday that present set-up could not be changed without checking the way of ineligible persons to come in power again and again.
"We cannot see change in the society without ending the present set-up, he said this while addressing a press conference here at PAT's Secretariat Model Town.
He said that present electoral system was a main hurdle in the way of change in the country. He said that nation should not become silent spectator and do something on election being held in collusion.
A big mistake is being committed without purging the electoral system which would help promote the culture of bad blood and terrorism in the country, he predicted.
It is tantamount to promote terrorism, if an opportunity is provided to corrupt politicians to come in power, he said.
He vowed that PAT would continue its efforts to obtain the objectives of corruption free electoral system in the country.
Source : http://www.brecorder.com/top-news/1-front-top-news/111470-qadri-sees-no-change-without-purging-present-set-up.html