Syrian suicide bombing martyrs top Hadith-ScholarDr Ramadan al-Buti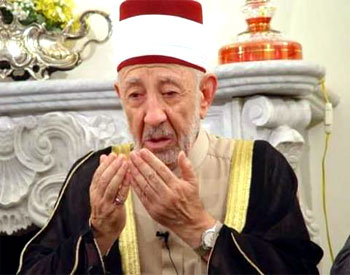 On Thursday, a suicide bombing at a mosque in Damascus killed Shaykh Muhammad Said Ramadan al-Buti, a major Islamic scholar and traditionist. May his soul rest in peace!
The elderly ShaykhDr Ramadan al-Buti, reportedly in his 80s, was President of the Association of Islamic Scholars of Syria. In Syria, he was a grand mufti from the Sunni school of thought. He had devoted all his life to the propagation of Islam, the safeguarding of the beliefs of Ahl al-Sunnahwa al-Jamah and the fighting of the Kharijite beliefs and practices. His martyrdom is a great loss for the entire Muslim community.
Shaykh-ul-Islam Dr Muhammad Tahir-ul-Qadri and his son Dr Hassan Mohi-ud-Din Qadri have expressed grief over the demise of the savant: the passing away of the beacon of light in this age of trials is an irreparable loss. May Allah exalt him to high rank in Paradise!