Fake democracy to come into being after elections: Dr Tahir-ul-Qadri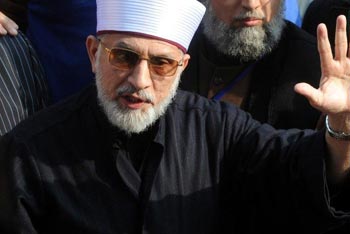 Dr Muhammad Tahir-ul-Qadri, the leader of Pakistan Awami Tehreek, has said that the reality of Election Commission has been exposed before the people of Pakistan. He said that fake democracy will come into being after the electoral exercise under the incumbent system that will plunge the country into more instability and chaos. He said that everything was happening in front of the Election Commission by design while it was both hapless as well as helpless to stop corrupt practices from happening. He said that the sorry state of affairs in which the country was stuck owed itself to the fact because the institutions meant to serve the state were busy protecting the politics of corruption.
Dr Muhammad Tahir-ul-Qadri expressed these views while addressing the meeting of Central Working Council of Pakistan Awami Tehreek yesterday. Khurram Nawaz Gundapur, Bashrat Jaspal, Qazi Faiz-ul-Islam, GM Malik, Jawad Hamid and other leaders were also present on the occasion.
Dr Tahir-ul-Qadri said that the turn of events placed a seal of approval on what he had been saying from December 23 to March 17. He said that enmity against the country was committed through extension of patronage and protection to corruption in the name of scrutiny. He said that the people were justified to ask as to why judiciary and the Election Commission were mum on the prevailing conditions. He revealed that Articles 62 and 63 were defamed under a conspiracy so that justification could be provided to the next assemblies to strike them down from the Constitution.
Dr Qadri said that his contention regarding unconstitutional composition of the Election Commission was neither refuted nor would be contradicted. He said that he wanted to say openly and publicly that except the Chief Election Commissioner, the loyalties of other four members were glaringly suspect and compromised. He said that the face of Article 62, which was projected during the scrutiny process, was contrary to reality. He asked the people not to be merely spectators and fence sitters. 'They should join the public sit-ins in their hundreds of thousands being organized by PAT on the polling day. As long as corrupt system is not sent packing, no positive change could come about,' he concluded.