24 couples tie knot at mass marriage ceremony under MWF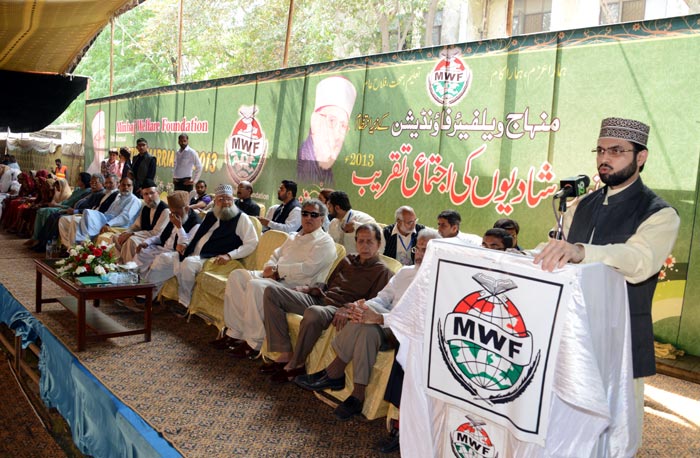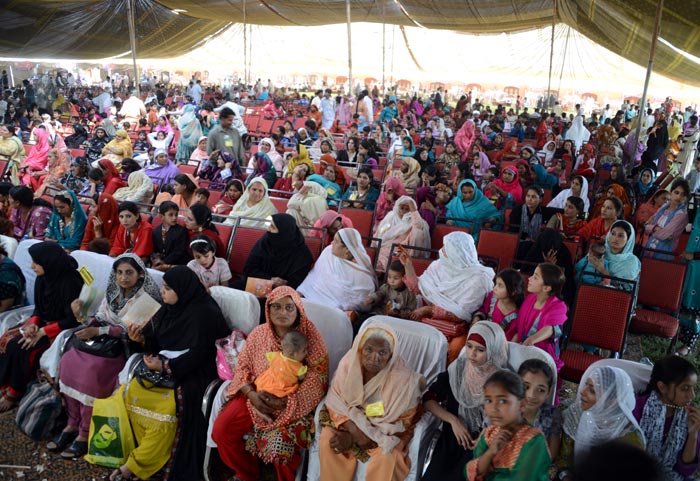 20 Muslim and 4 non-Muslim couples tied the knot as per their religious rituals and thus embarked on a new phase of life at a mass marriage ceremony organized by Minhaj Welfare Foundation in Minhaj University Campus, Lahore on April 14 (Sunday). Every bride was gifted household stuff of worth Rs. 1.5 lacs and a jewelry set. Arrangements were also made for 1800 guests. Dr Hassan Mohi-ud-Din Qadri, President of MQI's Supreme Council, was the guest of honour in the mass marriage ceremony.
Addressing on the occasion, Dr Hassan Mohi-ud-Din Qadri said that religious, educational and welfare services of Shaykh-ul-Islam Dr Muhammad Tahir-ul-Qadri were worthy of emulation for other welfare bodies and organizations. He said that the leader of MQI was an ambassador of peace, love and human compassion. He said that his mission of replacing hatred with love distinguished him in the world.
Dr Hassan said that Dr Tahir-ul-Qadri launched scholarly, intellectual and practical struggle against the mischief of terrorism and extremism and acquainted the world with the real teachings and face of Islam. He said that Dr Qadri frustrated the grave conspiracies against Islam and Pakistan through his efforts and contributions, adding that it was for this reason that the personality of Dr Tahir-ul-Qadri was worthy of pride not only for the people of Pakistan but also of the Islamic world.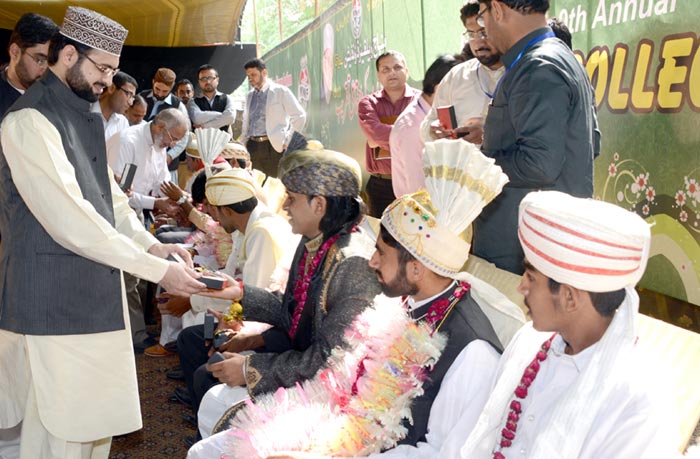 Dr Hassan Mohi-ud-Din Qadri said that an attitude of perseverance with regard to performance of good deeds enables one to undertake the mission of reforming the society. He said that the process of internal purification exposes man to reality of servitude. He said that the society at large was not aware of this aspect and considered the worldly gains its ultimate destination. He said that when one remains steadfast in performance of good deeds, a time comes when one starts to perform good deeds through reflex action. He said that when one felt inclined to do good deeds and one's passion for the same remained unwavering, it was sign of Allah Almighty being happy with His servant and he who pleased his Lord is the happiest man of the world. He said that Divine pleasure could not be sought without being steadfast in performance of good deeds and piety.
Dr Hassan Mohi-ud-Din Qadri and other distinguished guests were pictured in group photographs with newly wed couples. They also distributed gifts among them. President of Minhaj Welfare Foundation (Holland) Dr Abid Aziz, Sahibzada Faiz-ur-Rehman Durrani, Dr Prof Rashid Khan, Begum Rashid Khan, senior actor Habib, actor Usman Pirzada, and other leader of MQI were present on the occasion.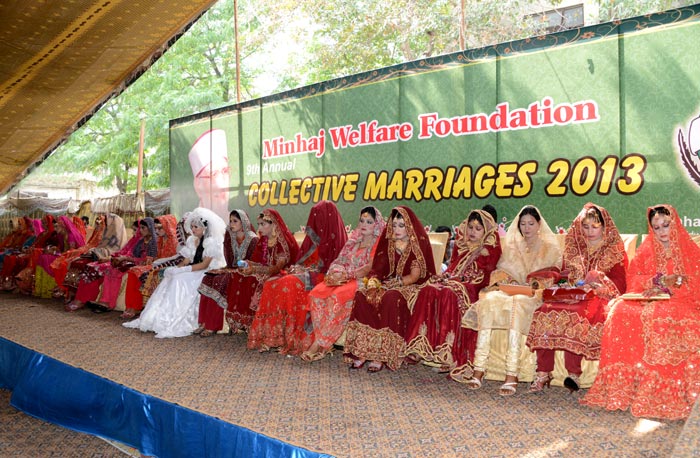 Amjad Ali Shah, Deputy Director of MWF, delivered welcome address and present annual report of the Foundation.
Addressing the ceremony, Sahibzada Faiz-ur-Rehman Durrani, Amir of MQI, said that it was duty of every one of us to distribute happiness among people because eliminating poverty, backwardness and ignorance was Prophetic tradition. He said that Dr Muhammad Tahir-ul-Qadri made welfare projects of MWF including Orphan Care Home as role model for other organizations. He said that given the state of affairs at the national level, people were thirsty of happiness. 'Marrying off daughters belonging to underprivileged households was not less than a blessing. MWF is propagating the message of being beneficial for others,' he added.
A team of religious scholars led by Mufti Abdul Qayyum Hazarvi solemnized nikah of each Muslim couple. The marriage rituals of Christian couples were performed by Father Chaman Sardar and Father Reverend. Mufti Abdul Qayyum Hazarvi delivered 'address of nikah' and led prayer. The distinguished guests were gifted books of Dr Muhammad Tahir-ul-Qadri at the conclusion of ceremony.