Lahore: PAT to play leading role in shaping future of Pakistan, Dr Tahir-ul-Qadri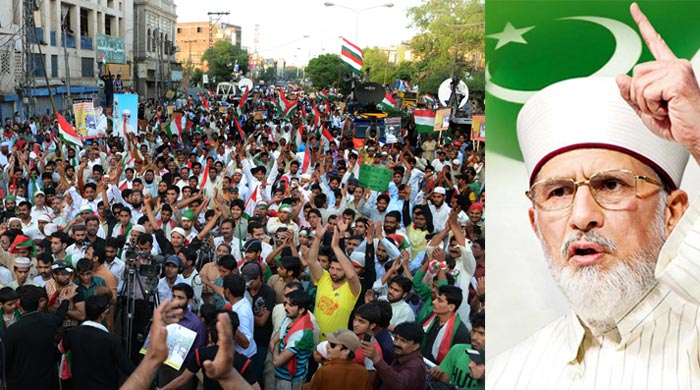 The successful rally of Pakistan Awami Tehreek held by the Lahore chapter against corrupt electoral system has indicated the fact that the people will attend PAT's sit-ins on the polling day in their large numbers and record their disapproval of the system.
The rally, which was attended by thousands of people including women and children, started from Railway Station Lahore. The participants were carrying banners and placards with anti-electoral system slogans written on them. They passionately chanted slogans in favour of real democracy and change and denounced the corrupt electoral system. National songs and anthems continued to be played which further added to emotions and passions of the participants. At a time when rally reached Lakshmi chowk, its last end was still near Lahore hotel. It needs to be mentioned here that no party, going into elections, can take out such a big rally.
Shaykh-ul-Islam Dr Muhammad Tahir-ul-Qadri, the leader of Pakistan Awami Tehreek, addressed the thousands of participants of protest rally telephonically from London. He said that PAT would have a central role to play in national stability and bright future of the country. He said that the world would soon witness an end to reign of corruption, loot and plunder of so-called political elite. He regretted the fact that tax evaders, loan defaulters, and fake degree holders were 'baptized' under Articles 62 and 63 and given a clean chit of being 'honest and trust worthy' through a fraudulent scrutiny process, which was reduced to a farce.
Dr Muhammad Tahir-ul-Qadri said that time was fast approaching when the corrupt lot that had been eating into vitals of state and society and rendering the foundations of this country hollow would be sent home. He said that institutions were protecting evil and corrupt practices, adding that it would be a sin to cast vote under the present system. He predicted that hung Parliament, which would come into being after the elections, would not lead to establishment of stable governments with the result that political instability would continue to prevail. He said that elections of May 11 were meant to protect the status quo.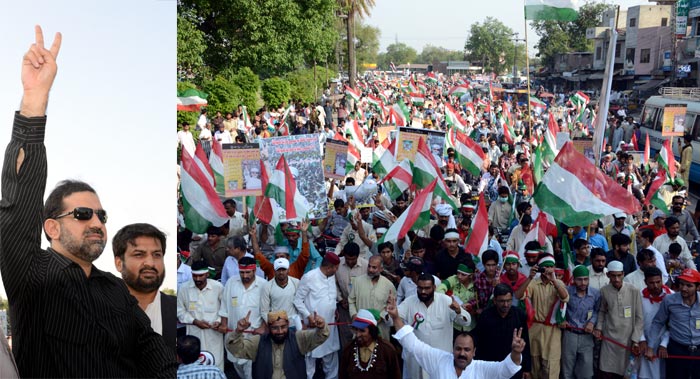 Dr Qadri said that the HEC was slapped on its face through acceptance of fake and bogus degrees. He said that given diluted authority of the Commission, it was better to wind it up. He said that the country was held hostage to forces of democratic authoritarianism. He said that pens and consciences were being purchased to protect and advance the interests of the political elite.
Dr Tahir-ul-Qadri made it clear that the purpose of holding sit-ins was not to hinder anyone from casting his vote. He said that silent majority who believed that change was not possible under the present system would join PAT's sit-in in their hundreds of thousands and record their rejection of the system. This, he said, would lay the foundation stone for establishment of real and sustainable democracy in the country.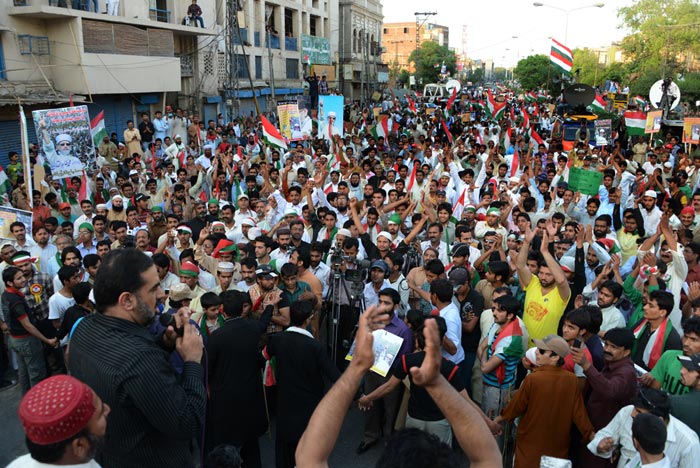 Earlier, addressing the participants of the rally, Dr Raheeq Abbasi, President of PAT, said that the Lahore rally was just a trailer and a lot more was still to come. He said that PAT was not against the elections but the fraudulent electoral system, which was at the heart of the country's myriad challenges. He said that the people were extending passionate support to PAT agenda and promising to attend sit-ins. He said that they were understanding the essence of PAT's message, adding and only those elections would be considered authentic which would have the seal of approval by PAT. He said that the forces of status quo were on the same page to protect the status quo while the masses were on other side of the equation.
Irshad Tahir, Afzal Gujjar, Hafizullah Javed and other leaders also spoke on the occasion.