Polling day sit-ins are against the corrupt system: Dr Tahir-ul-Qadri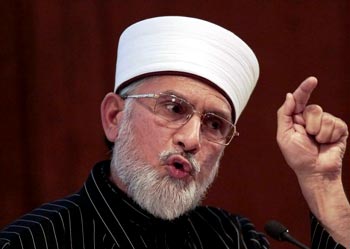 Dr Muhammad Tahir-ul-Qadri, the leader of Pakistan Awami Tehreek, has said that voting is a kind of evidence, which can be rendered to demonstrate opposition as well. It is not important that this right should invariably be exercised in favour of a candidate. He said that public sit-ins on the polling day were not meant against elections but against the corrupt electoral system, which was at the heart of multiple problems the country was stuck up in.
Dr Tahir-ul-Qadri said that it was people's religious obligation to take part in sit-ins to reject the system based on corruption and evilness, adding and voting under the present system was akin to partaking in sin of corruption. He said that no political or religious party ever staged a sit-in against the corrupt electoral system in the country so far and it was PAT's credit that it was arranging these sit-ins at large scales throughout the country to expose the system. By trying to highlight public agenda in such a concrete manner, PAT was going to make history, he added.
Dr Muhammad Tahir-ul-Qadri expressed these views while addressing a convention of workers through video conferencing from abroad.
Dr Qadri said that the Holy Prophet (SAW) commanded his followers to be persistent in performance of good deeds and reject evil in all its forms and manifestations. He said that the Election Commission was culprit under whose very nose people with questionable credentials passed through the scrutiny process so easily as well as comfortably, adding that those manning the Commission were deaf, dumb and blind.
Dr Tahir-ul-Qadri said that upcoming elections under the present system would be instrumental into installing the same corrupt people into corridors of power, which would be the worst oppression committed against the country. He said that he wanted to place it on record that the ECP was not constituted as per Article 218. He said that no member of the ECP, nor any judge of the SC could contest his contentions in this regard. He said that if the people wanted to save the future of the country, they should attend the sit-ins of PAT in their hundreds of thousands.
Dr Qadri said that if public referendum passed its verdict against the system, those safeguarding it would be swept away along with the system. He appealed to women to attend these sit-ins, adding that these sit-ins on the polling day would lay the foundation stone for durable change in the country. He instructed the PAT workers to intensify door-to-door campaign and apprise people in this respect.