Monthly Spiritual Gathering May 2013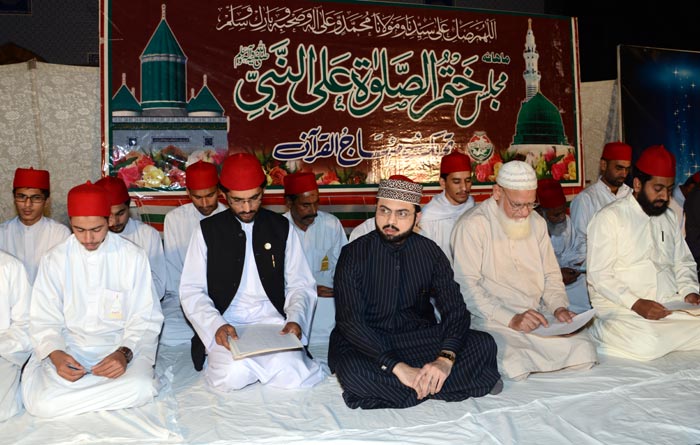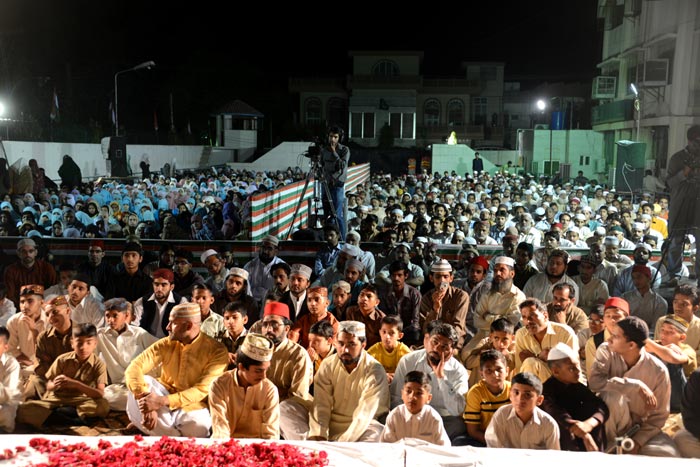 The monthly spiritual gathering of Minhaj-ul-Quran International was held on May 02, 2013. This May edition of the programme was hosted by Aziz Bhatti Town chapter of Lahore. The participants of the event included women and families in large number in addition to men. The proceedings of the programme got underway with the recitation of the Holy Quran followed by Naat after the Isha prayers.
Dr Hassan Mohi-ud-Din Qadri, the President of MQI's Supreme Council, presided over the programme, whereas Sahibzada Miskin Faiz-ur-Rehman Durrani, Amir-e-Tehreek, Sheikh Zahid Fayyaz, Secretary General of MQI, GM Malik, Director of Directorate of Foreign Affairs, Mufti Abdul Qayyum Khan Hazarvi, Prof Muhammad Nawaz Zafar, residents of Gosh-a-Durood and leaders of various departments of MQI were present on the main stage.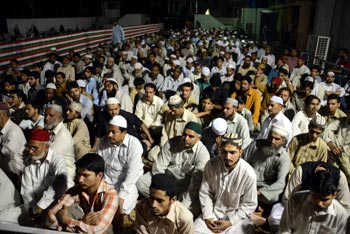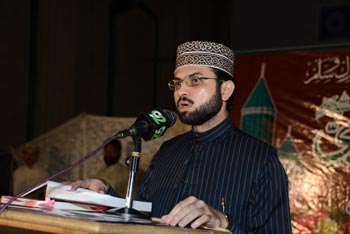 After the recitation and Naat, Minhaj Naat Council presented 'salam' in Arabic language from Dr Muhammad Tahir-ul-Qadri's book 'Dalayl-ul-Barakat'. The participants swayed to melodious voices of the 'kalam readers' and listened to it with full involvement and keen interest. Shahzad Brothers also took part in Naat Khawani.
Dr Hassan Mohi-ud-Din Qadri chose the topic of 'piety' for his speech on the occasion. Citing the reference of a Quranic verse, he said that Allah Almighty commanded the Holy Prophet (Peace be upon him) not to stay in Zarar Mosque due to latter's piety and his being mercy for all the worlds.
Dr Hassan said that it was climax for humanity that it was blessed with cleanliness and purification due to the person of the Holy Prophet (peace be upon him). He said that when each and every part of human body starts exuding piety, the man becomes the friend of Allah Almighty. He said that we would have to internalize piety in our body as well as soul today, adding that piety was a ladder by climbing which man could achieve nearness to Allah Almighty and gnosis of the Holy Prophet (peace be upon him).
The number of Durood recited the month of April exceeded 01 billion. Abdul Qayym Khan Hazarvi led special prayer after the conclusion of the programme. Allama Ghulam Murtaza Alvi conducted the proceedings of the programme.