The News: Article 62, 63 not implemented, corrupt contesting polls: Qadri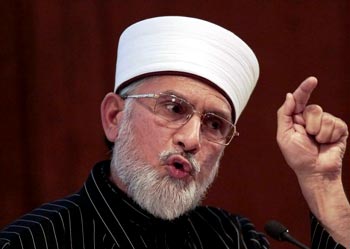 LAHORE: Tehreek-e-Minhaj-ul-Quran (TMQ) Chief Dr. Tahir ul Qadri on Wednesday said that article 62 and 63 were not implemented and ineligible candidates were allowed to participate in election, Geo News reported.
Addressing a press conference here in Lahore, Qadri said that his demands were not met as the Returning Officers (ROs) did not ask a single question regarding article 62 and 63.
He said that corrupt politicians were given the green signal to contest polls.
Tahir ul Qadri claimed that leaders of various political parties were defaulters of billions of rupees.
Source : http://www.thenews.com.pk/article-100111--Article-62,-63-not-implemented,-corrupt-contesting-polls:-Qadri