PAT's sit-ins to lay foundation for real change: Dr Tahir-ul-Qadri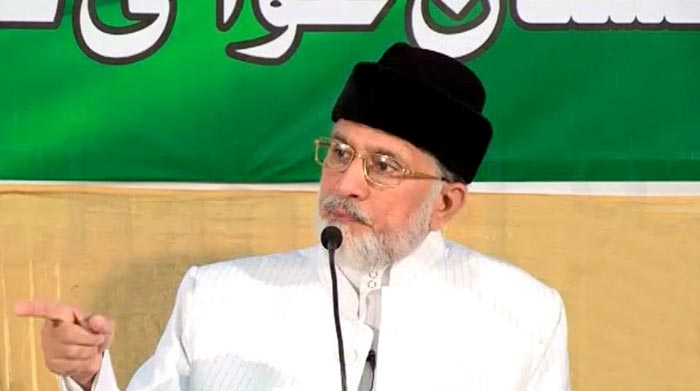 Pakistan Awami Tehreek leader Dr Muhammad Tahir-ul-Qadri has said that the election set for May 11 is the biggest fraud being committed with the nation in the democracy and vote. He said that illegal, unconstitutional and immoral Election Commission had made all arrangements gradually for ushering in of a fake National Assembly. He said that votes would be cast for the political horses and the post-May 11 would witness the worst horse trading in the country's history and missions of rupees would be spent on purchasing the loyalty of each and every winning horse. He appealed to the nation to reject the elections and take part in PAT's public sit-ins in their hundreds of thousands, adding that these sit-ins would lay the foundation stone of change and herald a new beginning in the country.
Dr Muhammad Tahir-ul-Qadri expressed these views while addressing the CEC meeting of Pakistan Awami Tehreek in Lahore yesterday.
Referring to multi-billion rupees media campaigns run by the political parties on elections, Dr Tahir-ul-Qadri said that the way the contesting political parties spent heaps of money on electioneering on TV channels showed that they damn cared about the Election Commission's stipulation of 1.5 million rupees. He criticized the role of the Election Commission, adding that it played a criminal role in protecting and perpetuating the corrupt electoral system, adding that this conduct had pushed the country into a blind alley. He predicted that the May 11 elections would be followed by a surge in terrorism and aggravation of economic woes with the result that dearness would make life of common man even more miserable. He said that those who raised the slogan of change would add to people's despondency. He stated categorically that 100 of elections held under the present system would fail to bring about change in the country.
Dr Muhammad Tahir-ul-Qadri said that the religious and political forces were involved in obtaining funding from foreign sources to run their election campaigns. He asked how could those who compromised their independence and integrity by accepting foreign money, could protect the national interests. He said that such political and religious parties should have been exposed and banned, maintaining that it was not done.
Dr Qadri said that he wanted to turn Pakistan into a country that was internally strong and externally powerful. He said that if the country overcame its internal problems, it would become able enough to say NO to the dictates of the foreign powers.