PAT's 24th foundation day celebrated amid revival of pledge to change system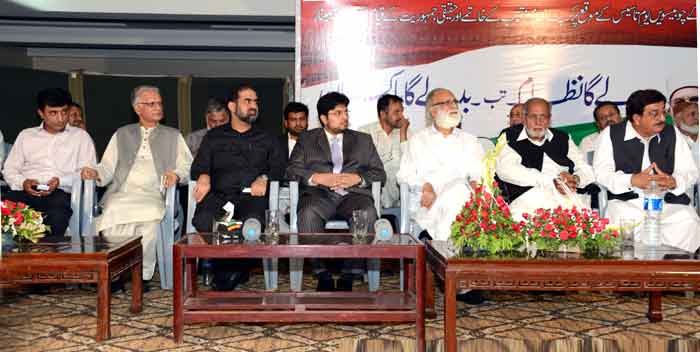 Dr Hussain Mohi-ud-Din Qadri, President of PAT's Federal Council, has said that call to revolution (Azan) was given on January 14 and only the prayer is left to be offered. He said that following the May 11 flawed elections if someone still thought that the next elections would be instrumental in bringing about change was in the manifest error. He said that a system, which held the nation hostage for many decades, was not going to give in that easily to pave the way for change. He said that a few new faces did crop up in the name of change on the polling day but the system remained as entrenched as ever. He said that Dr Tahir-ul-Qadri had already diagnosed the real problem afflicting the nation, adding that PAT's struggle had shaken the forces of status quo.
Dr Hussain Mohi-ud-Din Qadri expressed these views while addressing a seminar held under the banner of Pakistan Awami Tehreek to mark its 24th foundation day. PAT central President Dr Raheeq Ahmad Abbasi, Secretary General Khurram Nawaz Gundapur, senior journalist Qayyum Nizami, Habib Akram, defence analyst Brig. (r ) Farooq Hameed, Col. (r) Habib Akram, former federal minister Munir Hussain Gillani, Chairman Shia Political Party Syed Noubahar Shah, Anwar Akhtar Advocate, Bashrat Aziz Jaspal, Jawad Hamid, Sajid Mahmood Bhatti, Qazi Faiz-ul-Islam, Ch Afzal Gujjar, Hafiz Ghulam Farid, Naeem-ud-Din Chaudhry, and others were also present on the occasion.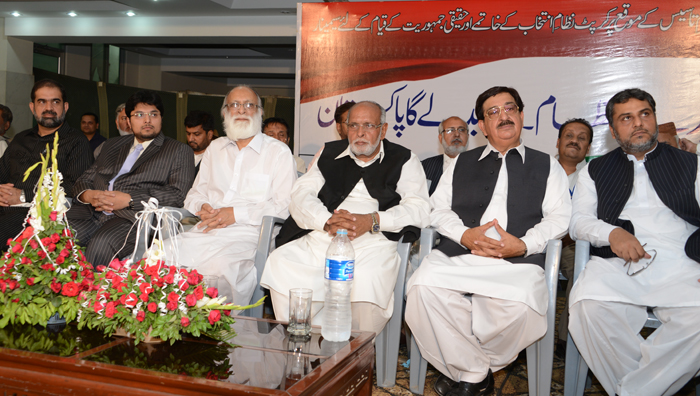 Dr Hussain said that those who raised the slogan of change were given a few seats and a piece in the cake of power. He said that the people were duped again. He said that PAT workers knew how to change the direction of history, adding that those who had dedicated themselves to the avowed goal of bringing about revolution did not rest till they accomplished their mission.
Dr Hussain said that May 25 marked the 24th foundation day of Pakistan Awami Tehreek, a day of reiteration and revival of pledge. He said that every individual of society would have to play his role to save Pakistan. He said that there was a need to awaken the nation from its slumber and sensitize it to the tremendous losses that it had suffered. He asked the PAT workers to play their role at this critical juncture and convey Dr Tahir-ul-Qadri's message to the masses living in every nook and corner of the country. He said that with their full and active participation, the day would not be far when leadership would stand transferred from privileged 3% to underprivileged 97%. If it happened, the country would become a truly welfare Islamic state.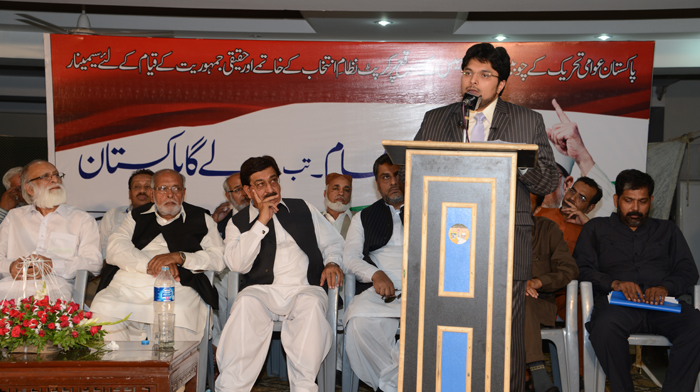 Dr Hussain Mohi-ud-Din Qadri said that the mission of Dr Tahir-ul-Qadri would have to be transferred to every individual of society so that they could be able to get back their rights, dignity and honour. He said that the real power, which could break the logjam of economic dependence, was the power of patriotism which needs to be revived among the masses. Speaking on the occasion, Dr Raheeq Abbasi, PAT President, said that the next elections would be held under a system which would be given by Dr Qadri. He said that hard work was required to increase people's awareness. He said that politics was all about public service and resolution of problems, and not loot and plunder of national resources, which had become name of the game in Pakistan.
PAT Secretary General Khurram Nawaz Gunapur said that today's Pakistan is in conflict with the Quaid-e-Azam's vision. He said that educational system was in decay, health facilities were nowhere and the electoral system had shackled the nation in myriad of problems.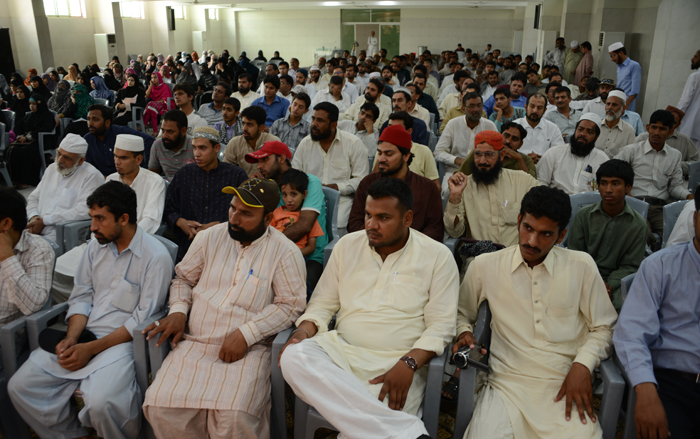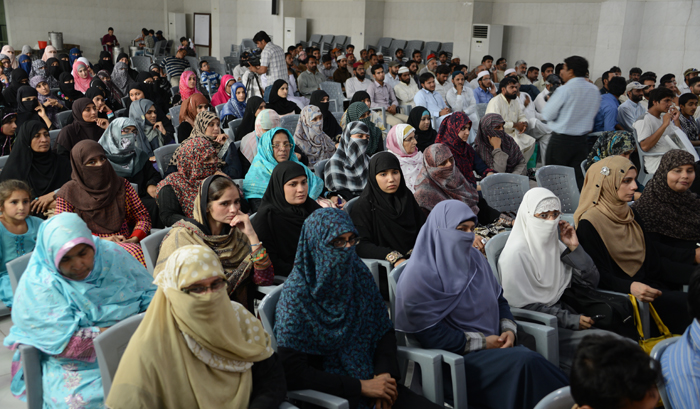 Syed Noubahar Shah, Chairman of Shia Political Party, said that the day was not far when the political struggle of Dr Tahir-ul-Qadri would result in real change and democracy in the country. He said that the way Dr Qadri unified the divided nation into a well-knit whole was simply amazing and he paid him rich tributes for this.
Renowned journalist Qayyum Nizami said that Dr Tahir-ul-Qadri's thought was positive and his struggle was headed in the right direction. He said that the ruling British and the Hindus would exploit the Muslims before the establishment of Pakistan and now their place was taken over by the politicians and capitalists. He said that it was only Dr Tahir-ul-Qadri who had correctly diagnosed the malaise afflicting the nation and that he was spot on when he said that the country's destiny would change only when the present political system would be sent packing.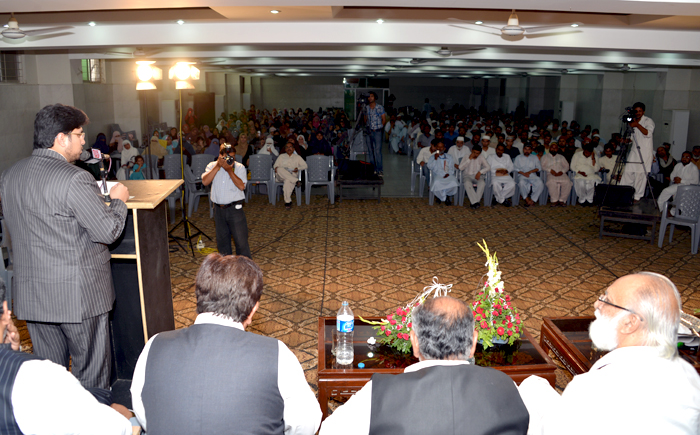 Renowned journalist Habib Akram said that the change of system was the dire need for the underprivileged sections of society who stood to gain the most while the rich and privileged people's interests were best served in a status quo. Hence, they would make every effort to frustrate the struggle aimed at changing the system.
Brig. (r ) Farooq Hameed Khan said that he was impressed by display of discipline, passion and organization among the PAT workers and felicitated them over this. Former Federal Minister for Education Syed Munir Hussain Gilani said that there a roaring echo demanding change in the system was heard a few months ago. He said that the voice of Dr
Tahir-ul-Qadri had become the heartbeat of the masses. He said that Dr Qadri had laid the foundation stone of revolution and the day was not away when this country and its people would experience change.
Dr Hussain Mohi-ud-Din Qadri and other leaders cut the cake to mark the 24th foundation day of Pakistan Awami Tehreek amid thunderous claps and passionate slogans.