Masses should get rid of elitist leadership: Qadri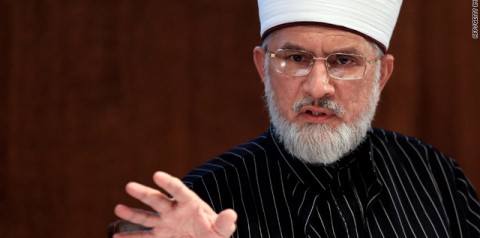 Tehreek Minhajul Quran chief Dr Tahirul Qadri has said unless masses took to streets against corrupt system, 'elitist leadership' would persist with its discriminations against masses.

During an interview with a Canadian private TV channel, he regretted that "ever since 1980s and up to 2008, retired judges were never appointed for election tribunals. Why is the practice being carried out with such fanfare now?"

Reacting to "PRA theory", Qadri was sceptical about reputation of representing judges in Punjab ECP tribunal, since these judges had not been approved by the High Court.

He expressed strong opinion that no political party would challenge his logic, as all were equally corrupt themselves, and had been granted 'a bit of alms' to keep mum.

He also referred to the CJP's Judicial Policy of 2009, which was fully compatible to PRA, and according to which any retired judicial officer could not be reinstated at any other public office.

Qadri cited a notification according to which the Election Tribunal would hear appeals against decisions of returning officers, while currently returning officers were sitting (public) judges, who could not be promoted to high court(s), since a high ranking judge would be opposing them.
Source: http://www.pakistantoday.com.pk/
Source : http://www.pakistantoday.com.pk/2013/05/27/news/national/masses-should-get-rid-of-elitist-leadership-qadri/