Pakistan's future linked to agriculture, tax revenues & energy: Economists speak at PAT Pre-Budget Seminar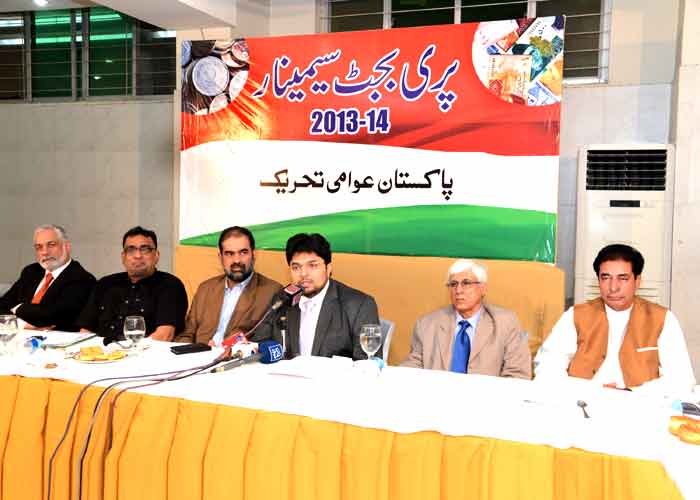 Addressing a pre-budget seminar held in the central secretariat of Pakistan Awami Tehreek, Dr Hussain Mohi-ud-Din Qadri, President of PAT's Federal Council and a distinguished economist, has said that a government, which does not represent people's aspirations, cannot fulfill their expectations. He asked how those who could not shore up the country's collapsing economy during last five/six years would put it on track now. He said that gradual erosion of currency could affect economy putting it in bracket of countries like Indonesia.
Dr Hussain Mohi-ud-Din Qadri said that though 10-20% pay raise is given to public sector employees in every budget but it does not match and reflect the hike in inflation. He said that the defence budget would be increased to the tune of Rs. 100-125 billion, adding that agricultural sector, which used to be the linchpin of economy in the past, has been neglected. He further added that agro-industry had traditionally been a neglected area, which constituted a big mistake. He said that if agro-based industry were revived and operationalized to its full potential, it would resolve the unemployment problem to a large extent. He said that the issue of food security would rear its head in the coming five to ten years globally, adding that being an agricultural and green economy, Pakistan was well placed to export its agricultural products as the country was blessed with all the four seasons, fertile lands and hard-working people.
Dr Hussain Mohi-ud-Din Qadri said that the grant of small and medium loans to the youth would help bring about green revolution in the country. He said that our tragedy was that we were ignoring our real strength i.e. agriculture and implementing the foreign policy prescriptions suggested by IFIs such as International Monetary Fund. He said that the current system was the enemy of Pakistan's economy in which an economist could not prepare a national budget. He said that a nation looked for a country 65 years ago and now the country was looking for a nation. He said that we needed a leadership and a system that could marshal us into a nation.
Dr Raheeq Abbasi, president of Pakistan Awami Tehreek, delivered welcome address on the occasion.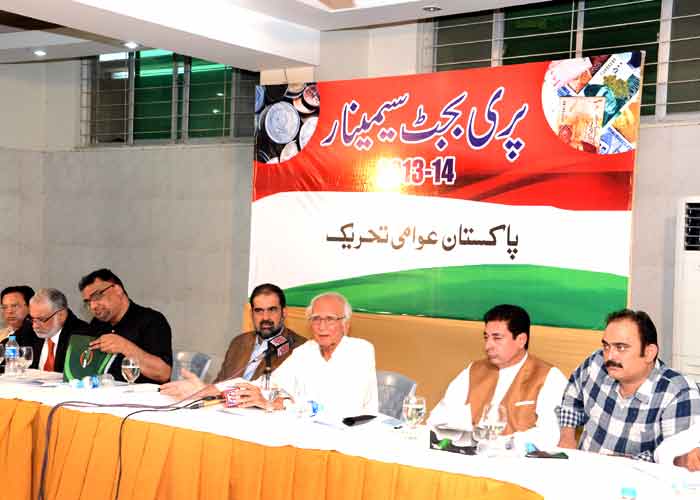 Addressing the seminar, Dr Mubashir Hassan, former federal Minister for Finance, said that budget is good and reflective of people's aspirations when those formulating and framing budgets are true representatives too. He said that if the nation wanted a good and positive budget, they would have to vote good, clean and competent people into power. He said that budget was a mirror of the rulers' priorities. He said that ours was a strange country in which the rulers of those who were hardly able to make their both ends meet were billionaires. He said that Pakistan was a country of hundreds of thousands of the rich and millions of the poor, adding that middle class would be erased gradually.
Dr Mubashir Hassan said that it was national tragedy that the rich shied away from paying their due taxes while the middle classes and the government employees were heavily taxed in the form of indirect taxes. He said that the ruling elite was loyal to their vested interests and big powers, not Pakistan.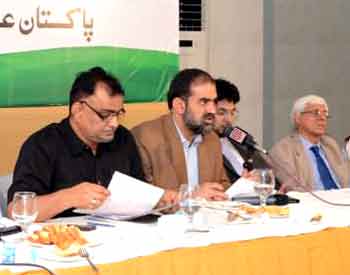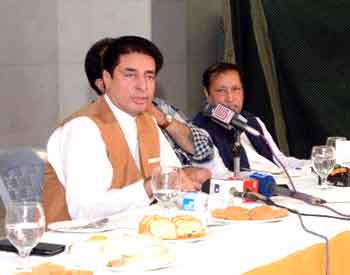 Former Federal Minister Riaz Fatyana said that bureaucracy had central role to play in the preparation of budget. He suggested that Kala Bagh Dam should be renamed as Green Dam, adding that had it been constructed, it would have added 7000 MW of low cost energy to the national grid. He said that the issue of population growth would have to be seriously pondered. He said that tax rate would have to be increased for the moneyed classes. Underlining the need for a proactive and robust youth policy, he said that the potential of the youth needed to be harnessed for greater national good.
In his remarks on the occasion, renowned economist Dr Qais Aslam said that the upcoming budget 2013-14 would not be people-friendly, adding that there would be 'good' working relationship among civil government, civil and military bureaucracy. He said that Pakistan was the only country of the world where the poor fed the rich. He said that friendly relations would have to be developed and strengthened with India, China and Iran to create peaceful atmosphere. He said that the institution of FBR would have to be made business friendly. He suggested that hundred percent pay raise should be given to employees of grade 1 to 16 thereby abolishing all other perks and privileges.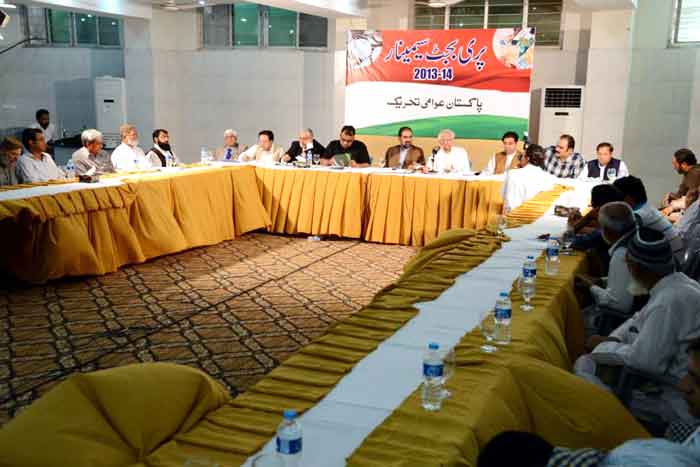 Speaking at the seminar, Ibrahim Mughal, chairman of Pakistan Agri Forum, said that the Constitution stipulated the presentation of budget annually. He said that how could a finance minister whose entire investment was in Dubai had the gall to ask others to bring their investment into Pakistan. He said that 400 billion dollars of the Muslim world were lying in the western banks. He asked as to why they did not establish their own world bank. He said that mega projects needed to be installed by exploiting Pakistan's natural resources. He said that for economy to grow at sustainable rate, agricultural and economic growth would have to be unprecedented. He proposed that 60 to 70% increase should be given in the salaries of employees from grade 1 to 16, 22% to grade 17-19 employees and 10% to grade 20-22 employees and all other perks and privileges should be abolished. He also suggested that 75% of official vehicles should be sold out.
Renowned banker Shahid A Zia said that the upcoming budget would be a deficit budget and the government would have to go to IMF for bailout package. He said that real problem was tax collection. He said that FBR did not have the resolve to collect tax revenues, adding that complete overhaul of the system was needed. He said that social sector namely education and health was badly neglected in the past. He said that these two areas were the most important ones in the entire world. He said that regional trade would have to be encouraged, further saying that India and China had the resources and markets to offer. He said that dams, whether big or small, were useful. He suggested that traders' community should be taken into confidence as part of efforts to increase tax collection. PAT leaders Ch Muhammad Sharif and Sajid Mahmood Bhatti also addressed the seminar.