PAT's Women Wing protests attack on Jinnah Residency & terrorism in Quetta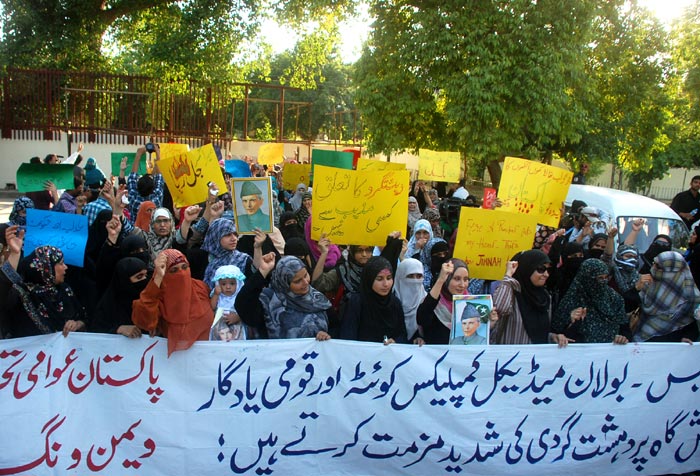 The Women Wing of Pakistan Awami Tehreek (PAT) held a public demonstration today in front of the Lahore Press Club to protest the vandalism of the Quaid-e-Azam Residency in Ziarat, terrorist attack on Quetta Women University and Bolan Medical Complex in Balochistan. The demonstration was attended by the hundreds of women and young girls who belonged to various walks of life. They were holding placards and banners with anti-terrorism slogans written on them. They strongly condemned the killing of around two dozen female students in Quetta and destruction of historic Ziarat Residency and demanded of the provincial and federal government to bring the perpetrators of these gory attacks to justice. The protesters were carrying the Quaid-e-Azam's pictures and chanting slogans such as 'The great Quaid, we are ashamed."
Addressing the participants of the protest rally, Mrs. Noshaba Zia, President of PAT's Women Wing, said that the emergence of anti-Pakistan elements in Balochistan was dangerous for the country's integrity. She said that attack on residence of Pakistan's founding father was basically an attack on ideological basis of the country, which deserved the strongest possible condemnation. She said that it was about time that we went beyond condemnation and took practical steps to secure peace and restore law and order in the country. She regretted that situation had come to such a sorry pass that our national monuments, which connected us to our forefathers, were being obliterated and we were helpless to do anything as situation took an uglier turn with the passage of time.
The Women Wing's President said that a place where the Quaid-e-Azam spent the last days of his life was burnt into ashes, which had put the nation to shame. She said that if this incident failed to ignite in us the passion for our homeland, it would further embolden the anti-Pakistan elements and they would go to any length to accomplish their nefarious objectives against the state of Pakistan. She warned that if this happened, it would open up new challenges for the country's security and integrity. She said that women taking part in the demonstration pledged that they would not hesitate from any sacrifice to protect the Ideology of Pakistan and sacrifices of our forefathers that they rendered for the establishment of this great country.
Mrs. Noshaba Zia said that it was our national obligation to transfer our great traditions and ideology of Pakistan to the succeeding generations. She said that attacks on Bolan Medical College and Women University in Quetta were blots on the conscience of our society, adding that those who perpetrated these heinous crimes were devoid of humanity as they took on innocent women.
Addressing the demonstration, Irshad Iqbal, President of Lahore chapter of Women Wing, said that unending incidents of terrorism had exposed the performance and competence of the law enforcement agencies and the government. She said that perpetrators who attacked historic places of Pakistan were its real enemies who were out to target the state symbols.
Mrs. Sajida Sadiq, the central vice president, said on the occasion that those who had created state within a state would have to be dealt with the iron hands. She said that inflation, energy crisis, terrorism and dearness had made the people's lives miserable while the privileged class was not only having its cake but eating it too. She said that the entire nation would have to unite against terrorism and target killing, adding that the law enforcement agencies needed to review their strategy and bring about innovation to target those who were adamant to ignite fear in the land through terrorism. She said that those who committed crimes against the state needed to be brought to justice so that an example could be made of them and deterrence established.