Dr Tahir-ul-Qadri visits Minhaj College for Women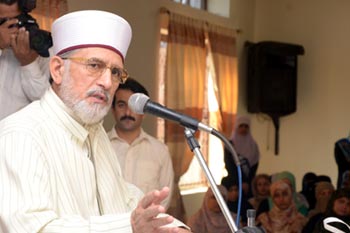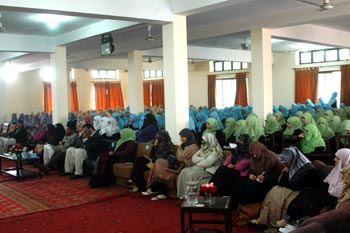 Shaykh-ul-Islam Dr Muhammad Tahir-ul-Qadri visited Minhaj College for Women in Township on March 25, 2013. He was given a red carpet welcome on his arrival by the administration of the college. Bazm-e-Minhaj arranged a training session in Mustafavi hall of the college. Shaykh-ul-Islam was the keynote speaker on the occasion. The purpose of the sitting was to familiarize the students with the modern-day demands in the field of education, increase their understanding of religion and impart them moral and spiritual training. In addition to students, teachers and other staff members of the college also attended the lecture.
The proceedings of the programme got underway with the recitation from the Holy Quran by Hafiza Saira Maqsood followed by Naat.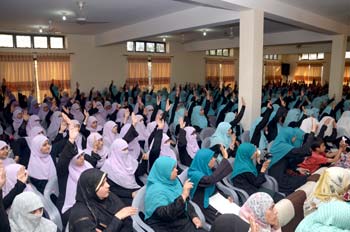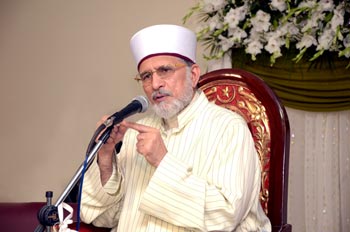 Addressing the training session, Dr Muhammad Tahir-ul-Qadri said that there is a purpose of man's creation in this world. He said that living a life in compliance with Allah Almighty's commands was one of the chief objectives of life. He said that to be able to determine a purpose in today's material world was not less than a success in itself. He said that seeking to spend one's life in accordance with dictates set by Islam was a reason of success not only in this world but also in the world hereafter. He instructed the students to adopt piety, goodness, worship and morality in their personal and collective lives. He asked them to enrich their hearts with the love of Allah Almighty and the Holy Prophet (SAW), for in this lies the eternal success.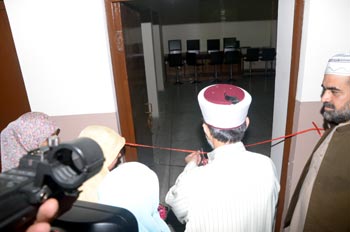 Dr Tahir-ul-Qadri also directed the college administration to bring about innovation and creative changes in teaching methodologies keeping in view the demands of contemporary age. He also approved a new code of conduct to improve discipline on and off campus. Following his approval, the code of conduct came into immediate effect.
Earlier, upon his arrival, he inaugurated a newly built computer lab equipped with state of the art facilities, multi-media class room, and research institute at the college campus. He felicitated the college administration and appreciated its initiative to upgrade the educational services in the college. He also gave instructions to bring about more improvements.
Shaykh-ul-Islam made a Dua at the end.