PAT to launch mass contact campaign after Ramadan

Pakistan Awami Tehreek (PAT) has decided to launch mass contact campaign after the holy month of Ramadan. This campaign will be part of awareness drive being spearheaded by PAT with a view to bringing about change in the system through peaceful and democratic means. A blueprint of local bodies' system will also be presented before the nation in line with the vision of Dr Muhammad Tahir-ul-Qadri. A 5-member committee under Bishrat Aziz Jaspal has been constituted in this regard. Membership campaign aimed at making 10 million new members will also be resumed after Ramadan with renewed determination. PAT will also set up public support centres at district and tehsili levels against the police and bureaucratic excesses.
The government's performance in the first month has added to people's miseries with taxation measures in place and price hike touching new heights. The country has been left at the mercy of International Monetary Fund in return for 'bailout package'. Load-shedding continues to cause inconvenience to the people besides affecting economy very badly, while power tariff is on the upward trajectory. PAT will not only identify the problems faced by the people but would also increase pressure on the government to resolve public grievances.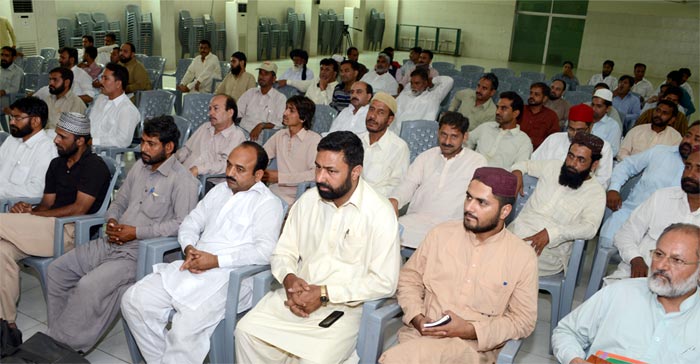 Dr Raheeq Ahmad Abbasi, central President of PAT, expressed these views while addressing a meeting of District and Tehsil Presidents and Secretary Generals of PAT in Lahore today. Bashrat Aziz Jaspal, President of PAT Punjab, Sardar Mansoor Ahmad Khan, Deputy Secretary General, Dr Zafar Ahmad Khan, Malik Mushtaq Ahmad Nonari Advocate, Mian Zahid Javed, Aqil Malik, MH Shaheen, Sajid Bahtti, Qazi Faiz-ul-Islam and Tanveer Ahmad Khan were also present on the occasion.
Mian Haroon-ur-Rashid, President of Pakistan Justice Party, decided to merge his party into PAT on the occasion.
Addressing on the occasion, Bashrat Aziz Jaspal said that the people had known after the poll outcome that the agenda of electoral reforms espoused by Dr Tahir-ul-Qadri was dire need of the hour to rid the country of elite capture. He said that the present government did not have any solution to energy problem as power outages of 18 hours a day made life a virtual hell in such sweltering heat. He said that the industry used to get electricity for four days in a week during the incumbency of last government, adding that the industry is now getting electricity for two days during the tenure of the present government. He said that terrorist incidents were taking a heavy toll on the nation both in man and material and imposition of new taxes had made things even worse.
The meeting also reviewed reorganization process of PAT in the country. Bashrat Aziz Jaspal told the meeting that reorganization of PAT Punjab would be complete by December 2013 down to union council level. The meeting also condemned terrorism in the country including the bomb blast at Anarkali in Lahore. It passed a condemnatory resolution on the occasion.