Dr Tahir-ul-Qadri struggling for empowerment of people: Dr Hussain Mohi-ud-Din Qadri

The youth should reject the present anti-people system to make way for real change in the country because time to bring about change is today. He who wants nearness of Allah Almighty today should make it binding upon himself to work for change in the country. MQI's message is refreshingly different from other parties and organizations because it is revolutionary movement of the contemporary age struggling for restoration of people's rights. Shaykh-ul-Islam Dr Muhammad Tahir-ul-Qadri has his hand on the pulse of the nation. Only he can give a practicable roadmap of change.
Dr Hussain Mohi-ud-Din Qadri, President of MQI's Federal Council, expressed these views while addressing a General Council meeting of Minhaj-ul-Quran Youth League in Lahore today. PAT President Dr Raheeq Abbasi, MQI Secretary General Sheikh Zahid Fayyaz, MYL Lahore President Shahzad Ahmad Qadri, Secretary General MYL Lahore Muhammad Rafique Saddiqi, Shoaib Ahmad, Hafiz Waqar and Shahid Qamar were also present on the occasion.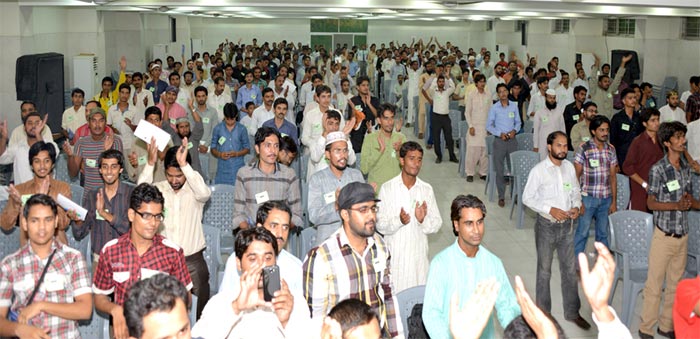 Dr Hussain said that Dr Tahir-ul-Qadri's struggle is for empowerment of the people aimed at making them master of their destiny in line with the best democratic practices and constitutional provision. He said that Pakistan's survival lay in devolution of power to the masses at the grass-roots.
Dr Hussain Mohi-ud-Din Qadri said that reward and consequences of one's actions had been changing in accord with vagaries of time. He said that if performance of one act is responsible to win Allah's nearness in one age, it is replaced by another act another time. He further said that result-orientedness of one's actions and deeds is very closely associated with how time moves on in different periods. He said that one thing the youth needs to work for after discharging their basic responsibilities is for durable and positive change through peaceful and democratic means. 'It is they who are blessed with the courage, determination and capabilities to shake up the status quo,' he concluded.