'Azan' for change given, 'Jamat' yet to be led: Dr Tahir-ul-Qadri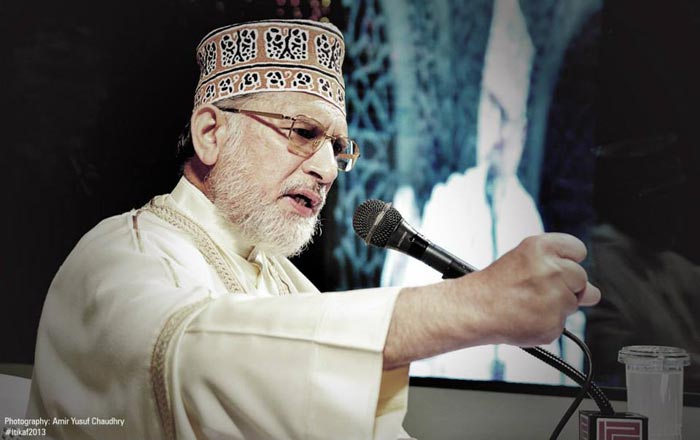 Pakistan Awami Tehreek leader Dr Muhammad Tahir-ul-Qadri has said that his party gave 'Azan' by holding a historic public meeting at Minar-e-Pakistan in December 2012 and arranging the first ever Islamabad Long March in January 2013, adding that 'Jamat' is left to be led as yet. He said that the 'moazzan' takes a pause and keeps silent after saying 'Azan' till the 'Jamat' stands up to offer prayers. He said that we did not want to get embroiled in non-issues, further saying that the day when ten million 'Namazis' would be ready, we would stand up. He said that when the people would start offering prayer, the forces of falsehood would be swept away.
Dr Muhammad Tahir-ul-Qadri expressed these views while talking to district office bearers of Pakistan Awmi Tehreek from across the country yesterday. He said that by the grace of Allah Almighty and blessings of the Holy Prophet (PBUH), our determination was intact and eyes set in the right direction. He said that PAT did not believe in 'delicate hitting of goldsmith', saying that when appropriate time came, it would strike one ferocious hit that will lead to end of period of oppression and usurpation of rights by the vested interests and herald the dawn of a new hope and a new beginning.
Dr Qadri said that PAT and MQI workers were standing their ground as mountains in this age of mischiefs and multiple disorders. He said that future belonged to Pakistan Awmi Tehreek. He said that countrywide public awareness campaign against the electoral system would be launched with top gear after Eid. He said that MQI was spreading Islamic message with correct creed from East to West, adding that peace and MQI were two faces of the same coin.