Record number of women attend Itikaf 2013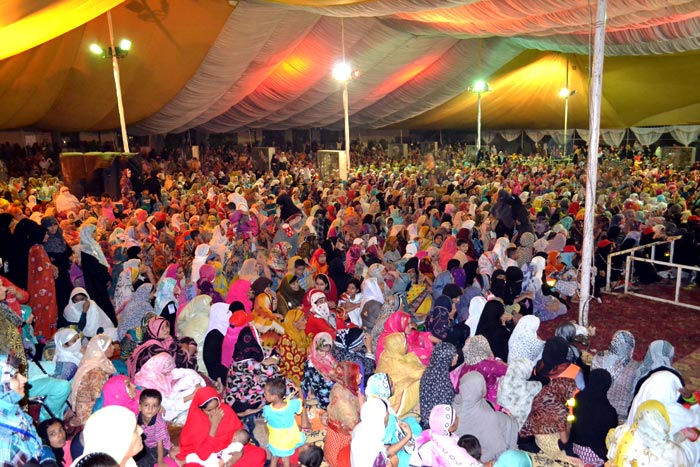 On the 20th of Ramadan, as Muslims throughout the world welcomed the third Ashara of Ramadan, Lahore was honoured once again to host the 23rd annual Itikaf, organised by Minhaj-ul-Quran International in Township area of provincial capital.
The beauty of Itikaf City is that it has always attracted and welcomed thousands of sisters from different backgrounds and all walks of life. Minhaj-ul-Quran International welcomed sisters who have travelled from all parts of Pakistan to attend the second largest Itikaf gathering in the world after Makkah and Madinah.
As Minhaj ul Qur'an International is a widespread organisation throughout Pakistan, sisters and brothers attending Itikaf have came from over 220 cities in which Minhaj ul Qur'an is present. Some of the cities where the sisters travelled included Lahore, Rawalpindi, Faisalabad, Gujranwala, Jehlum, Sialkot, Karachi, Sindh, Kashmir, Abbotabad, Peshawar, Haripoor, Nawabshah, Mirpur, Kohaat, Mansehra, Chakwal, Talagang, Shekhupura, DG Khan, Sahiwaal, Khaniwaal, Bhakkar, Layya, Gojra, Qasoor, Narowaal, Dina, Laaliyan, Murid-K, Jhang, Texila, Eesa-Khel, Haweli-lakha, Vehari, Jaranwala, Pakoti, Hafiz Abad, Kalarkahar, Khariyaan, New Lahore and many other cities.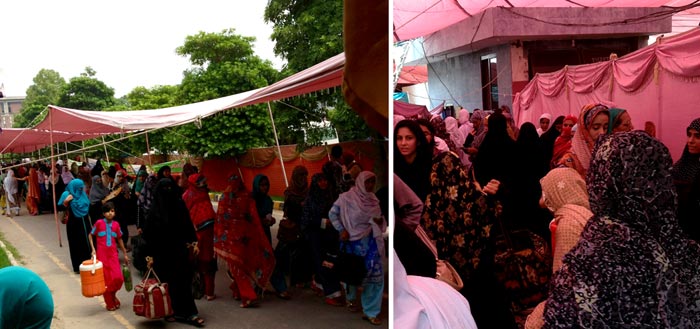 Arrangements were also made for sisters who traveled from Austria, France, Norway, UK, Qatar, Mascat, Saudi Arabia, Canada, Kuwait, Sharjah, Holland and Australia and many other countries, to attend the annual Itikaf in Lahore.
The sisters began arriving early in the morning and were directed to their rooms which had been assigned to them 15 days prior to their arrival. Such strategic arrangements were made possible as the local Minhaj ul Qur'an centres co-ordinated with the administration committee of Itikaf and ensured that arrangements for attending Itikaf would be a smooth process.
On their arrival, entry passes were issued to sisters. They were required to go through three security checks to ensure the safety of the Mo'takifeen. Belongings were thoroughly checked and, after receiving clearance, they entered into the I'tikaf camp ready to attend Itikaf for the next ten days.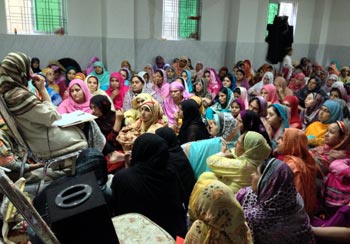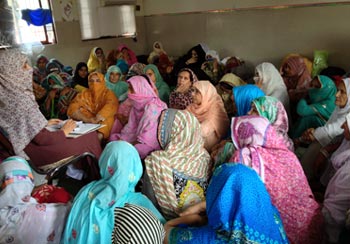 Three committees had been given the responsibility to fulfil their duties during this time, i.e. Security, Allotment and Discipline Committees. Thanks to them, the reception of the Mo'takifeen went extremely well and hassle-free. On entering, the sisters were welcomed with great affection by students from the Girls College; the atmosphere was fantastic; the purpose was clear – as sisters gathered here for the sake of Almighty Allah.
As always, the Sisters are divided into five blocks to ensure management and organisation to the highest degree. The blocks are: Fatima Block, Ayesha Block, Khadijah Block, Zaynab Block, and Bayt ul Zahra Block. Each block has a head and a subhead along with several committees, each with a set of duties assigned to it. These committees are, the Cleaning Committee, Security Committee, Prayer and Sunnah Committee (to ensure that prayers and other rituals are followed strictly), Mess Committee (which is active during Sahr and Iftar), Khidmat Committee (they have the responsibility to bring food to the rooms of the Mo'takifeen), Medical Committee (they have the responsibility to help those who are weak in health, bringing them to the dispensary and other such activities).
All Blocks, and their committees, are headed by the central team. There are many other committees such as the Pindaal Committee (which thoroughly takes care of venue), Sound Committee (which makes announcements to sister especially after rest timings, they also play Nasheeds and Durood Shareef to keep the spiritual vibe in the atmosphere during non-prayer times), Discipline Committee, Security Committee, Rabta Committee, Medical Staff (5 doctors are available all the time), Free Dispensary (5 doctors are available all time and 15 doctors are available in the evening) and so on and so forth. Furthermore, the on-site Media Committee is given the important role of co-ordinating with press, both electronic and social media. On 20th Ramadan, all TV channels and newspaper reporters were present to cover the arrival of participants of Itikaf.
A canteen is available for the Mo'takifeen at specific times where they are able to purchase food and other necessary items. To tackle the issue of load shedding, large generators are activated as soon as the electricity goes to ensure that electricity is available 24 hours a day throughout the ten days.
Such meticulous arrangements are overseen by the central head of Shaykh Zahid Fayyaz who is the Secretary General of MQI with the help of the Secretary General of MWL Noshaba Zia; co-heads Rafia Ali, Farida Sajjad, Noshaba Hameed, Ayesha Shabbir; Secretary Sajida Sadiq; Deputy Secretary Gulshan Irshad, Musarat Sultana and Shakira Ch.