MWF to launch relief & rehabilitation operations for flood victims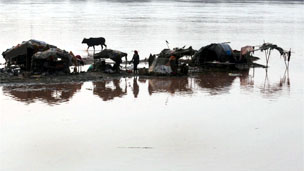 In keeping with its tradition of helping the suffering humanity, Minhaj Welfare Foundation has decided to take practical steps on urgent basis to help those in distress in the wake of recent floods in the country. Comprehensive course of action will be adopted for launch of relief work at the massive scale in the flood affected areas of the country. Special support zones will be established in the affected areas for the relief of those bearing the brunt of ongoing floods.
Amjid Shah, Director of Minhaj Welfare Foundation, expressed these views while addressing a hurriedly convened meeting to discuss relief operations in the background of ongoing floods that rocked the country. Ahmad Moeen, Mian Iftikhar, Khurram Shahzad, and Mian Tahir Yaqub were also present on the occasion.
Sayyid Amjid Shah said that the Pakistani nation has been bearing the brunt of floods every year as floods cause havoc brining an immense loss in man and material. He said that rain is blessing of Allah Almighty but it becomes quite an inconvenience for citizens due to defective planning and neglect of the government. He said that these rains damaged infrastructure in the country particularly in Karachi.
He said that Minhaj Welfare Foundation would take emergent measures for relief and rehabilitation of the flood victims in the country. He said that stagnant water was standing in different areas of the country and many areas in KPK, Balochistan, Punjab and Sindh had been drowned in the rainwater, adding that the victims were living miserable life under the open skies while the governmental response was inadequate to the magnitude of challenge.
Amjad Shah further contended that failure of timely relief and rehabilitation efforts could add to woes of the flood affected people and double the losses caused by the flood. He demanded of the federal and provincial governments to get into action mode instead of passing meaningless statements so that the flood victims could be helped during these trying times. He also appealed to the civil society, and affluent people to come forward and extend economic help for relief and rehabilitation of the suffering countrymen. He said that MWF would continue to remain engaged until complete rehabilitation of the flood victims.
---
Minhaj Welfare Foundation
Account # :
Freedom A/C No. 01977900163103
HBL Faisal Town Branch, Lahore
Phone : 0092 (42) 35168365
Fax : 0092 (42) 35168184
Email : info@welfare.org.pk