Shaykh-ul-Islam inaugurates Minara-tus-Salam (Gosha-e-Durood building)
The splendid building of MQI's Gosha-e-Durood known as 'Minara-tus-Salam' has been completed. Shaykh-ul-Islam Dr Muhammad Tahir-ul-Qadri inaugurated the building following its completion. The renowned religious scholars, leaders of MQI and a large number of people including women were present on the occasion.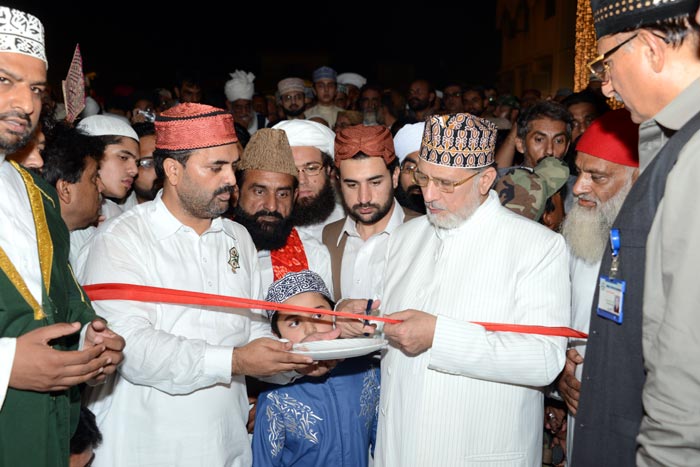 The inaugural ceremony of Minara-tus-Salam was held on the roof of Gosha-e-Durood's Suffa hall on August 22, 2013. The proceedings of the event got underway with the recitation from the Holy Quran in the melodious voice of Al-Haaj Qari Noor Ahmad Chishti. Every eye was full of tears as the Qari made recitation of Allah's Word. The recitation was followed by presentation of Naat titled 'Ya Nur-ul-Ain' in Arabic language by Hammad Mustafa al-Madani and Ahmad Mustafa al-Arabi in the Syrian dialect. Other Naat Khawans who had the honour of offering Naat in the honour of the Holy Prophet (SAW) included Muhammad Afzal Noshahi, Minhaj Naat Council, Zaheer Bilali, Amjid Bilali, and others.
In his remarks on the occasion, Shaykh-ul-Islam Dr Muhammad Tahir-ul-Qadri said that the Holy Prophet (PBUH) has showered his countless blessings on MQI. He said that establishment of Gosha-e-Durood at the central secretariat of MQI is a great blessing. He said that the building, which was being inaugurated, was the unique one after the Two Holy Mosques where greetings and salutations continue to be offered on the Holy Prophet (PBUH) round the clock throughout the year.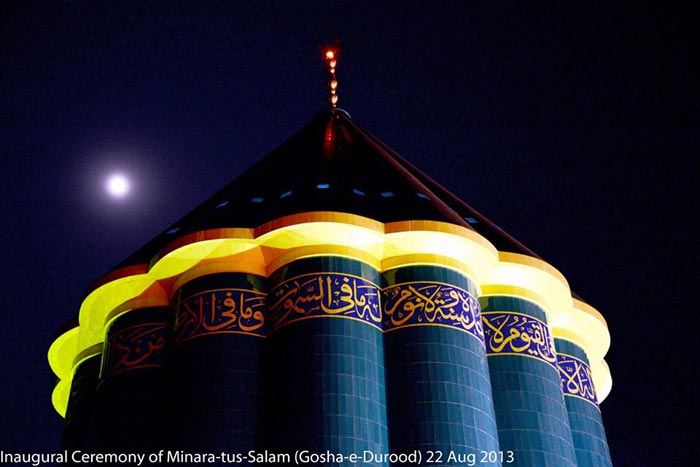 Dr Tahir-ul-Qadri said that the credit for construction of the eye-catching building went to two persons and their teams who worked with missionary zeal and zest and dedication to finish the job in a remarkable manner. He said that they were Brig. (r ) Iqbal Ahmad Khan, Vice President of MQI and project director of the building and Khalil Ahmad, Director of the construction company. He prayed to Allah Almighty to bless all those who remained involved in the project not only in this world but also in the world hereafter.
Speaking on the occasion, project director of the building Brig. (r ) Iqbal Ahmad Khan said that Gosha-e-Durood was initially started in the office of Shaykh-ul-Islam in the central secretariat on December 1, 2005. He said that the construction of building of Minara-tus-Salam on the model of Maulana Rum's shrine got underway later on, which had been completed now in all respects.
It may be pertinent to mention here that Shaykh-ul-Islam Dr Muhammad Tahir-ul-Qadri laid the foundation-stone of the construction work in the holy month of Rabi-ul-Awal in 2006, while the construction work formally began on June 18, 2007. Suffa Hall and residences for inmates of Gosha-e-Durood have also been built up along with the main building.