Propping up economy with oxygen of foreign loans a bad recipe: Dr Tahir-ul-Qadri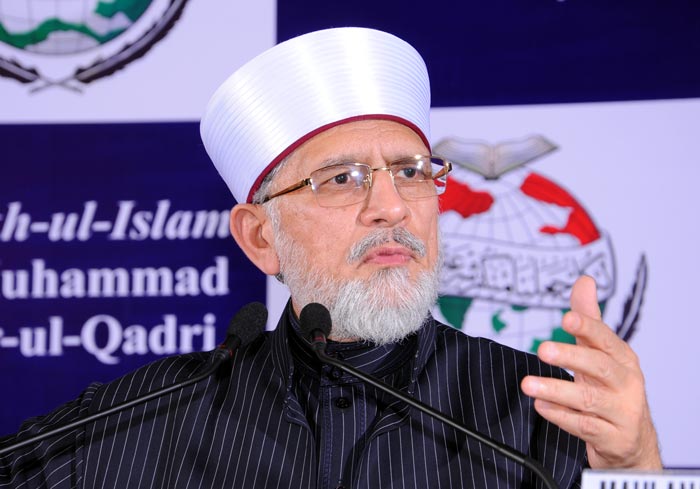 PAT leader Dr Muhammad Tahir-ul-Qadri has advised the workers of his party to vigorously continue membership campaign to enlist support of 10 million new members and keep the preparations underway. He said that 'Jamat' would surely be led as 'Azan' was given some time ago in the form of the Islamabad Long March. He said that the outcome of Elections 2013 had exposed the people to the ills afflicting the system, which would produce the same results even if dozens of elections were held under it.
Dr Muhammad Tahir-ul-Qadri expressed these views while addressing the Central Working Council of Pakistan Awmi Tehreek on Thursday.
Dr Tahir-ul-Qadri said that change was not possible in the presence of the present system. He asked the workers to speed up their efforts and knock on every door. He vowed that we would not rest until we made Pakistan the country of the Quaid's dreams. He said that the policy of keeping the national economy alive on the ventilator of costly foreign loans would destroy economy with unimaginable consequences for the country and its people.
Dr Qadri said that the conditionalities imposed by the International Financial Institutions (IFIs) such as IMF were very stringent which would worsen the conditions in which people were living their lives thereby invigorating a new wave of inflation, and price hike. He said that in a way, these IFIs take control of fixing prices of edibles by tightening things at the macroeconomic and microeconomic levels.
He said that for Pakistan to be able to recover from the long bout of economic slow-down, such a leadership was needed that should not compromise on the country's national interests. He said that only that leadership can put the country on the trajectory of sustainable socio-economic growth whose commitment to the people's prosperity and the country's economic stability is unwavering.
Dr Tahir-ul-Qadri said that corrupt system of elections would never allow competent and credible leadership to emerge from the process and play his role at the national level. He said that the electoral system needed to be sent packing so that the country could become stable economically.