Dr Tahir-ul-Qadri's work bringing religions together: Bishop of Lahore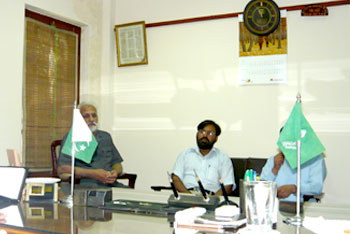 A MQI delegation led by Directorate of Interfaith Relations Sohail Ahmad Raza called on Bishop of Lahore, Right Reverend Irfan Jamil, in Cathedral Church of Pakistan at the The Mall, Lahore. The MQI delegation consisted of Syed Altaf Hussain Shah Gillani, Sanaullah Khan, and Farhan Ahmad.
In his talk on the occasion, Sohail Ahmad Raza threw light on the services and contributions of MQI and Dr Muhammad Tahir-ul-Qadri for the promotion of peace, harmony and interfaith dialogue both at national and international levels. He apprised the Church leader about Shaykh-ul-Islam's ground-breaking Fatwa against terrorism and suicide bombings despite manifest and real dangers to him and described it as one of giant steps for establishment of global peace in the world. He also informed the Bishop about Peace for Humanity Conference in Wembly Arena in London in which key faith leaders participated and made a collective prayer for peace, which was a rare sight in an environment marked by discord and conflicts.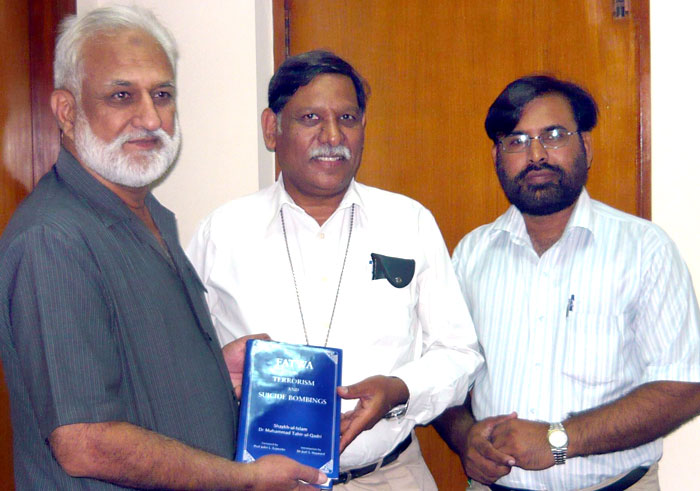 Speaking on the occasion, Bishop of Lahore Reverend Irfan Jamil said that peaceful coexistence and respect for each other's beliefs and faith was a prerequisite for promotion of interfaith relations. He said that we needed to highlight these issues in our curriculum and sensitize our young generations about the need to imbibe tolerance and moderation in our attitudes. He said that Dr Tahir-ul-Qadri presents the Islamic concept of peace, love and interfaith relations in very effective and argumentative manner. He said that Dr Qadri's work was playing an important role in bridging gulf among religions.
The Bishop of Lahore further said that Dr Qadri's theory of peaceful coexistence is praiseworthy aimed at making this world a hub of peace. He said that love of neighbor was the basic teaching of every religion, adding that national services of Pakistani Christians should be duly acknowledged.
Bishop Irfan Jamil expressed his good wishes for the efforts being made for establishment of peace and harmony at the global level and upcoming international interfaith moot in Mumbai.
Sohail Ahmad Raza and Syed Altaf Hussain Shah Gillani gifted the historic Fatwa of Shaykh-ul-Islam Dr Muhammad Tahir-ul-Qadri against terrorism to the Bishop of Lahore. Reverend Qaiser Nadeem, Pastor Shahid Miraj, Dean of Cathedral Church and others were also present on the occasion.