Khurram Nawaz Gandapur appointed as Secretary General of MQI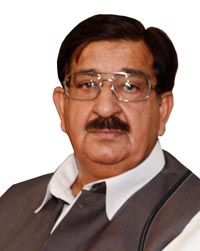 After detailed consultation with the central leadership and workers, Shaky-ul-Islam Dr Muhammad Tahir-ul-Qadri has appointed Khurram Nawaz Gandapur as a new Secretary General of Minhaj-ul-Quran International. He has taken over the responsibilities of new office. Dr Muhammad Tahir-ul-Qadri and the central leadership of PAT and MQI congratulated Khurram Nawaz Gandapur on assumption of the office and wished him best of luck.
Brief Profile
The family of Khurram Nawaz Gandapur has been associated with MQI since 1989. He got his early education from Abbottabad. After graduating from the Peshawar University, he joined Pakistan Army and won many prestigious honours during his stay in the army including getting commissioned on the basis of securing 1st position in the Pakistan Military Academy as well as the Sword of Honour. He then took part in firing competition in London as part of Pakistan Army Firing Team. He also served as Instructor in the Pakistan Military Academy from 1976 to 1978.
Mr. Gandapur resigned from the army service in pursuit of better opportunities. Given his profile in the army, he was all set for a take-off position in terms of illustrious career in the armed forces which is a dream of any young entrant in the army. After resignation from his job in the army, he decided to pursue his education and got the following degrees:
Master in Political Science (1st position in Gomal University)
LLB (Karachi University)
He served as army advisor for martial training to the government of Oman from 1982 to 1993. Sultan Qaboos conferred Order the Special Royal Emblem on him in recognition of his services.
He served as Deputy Secretary in the Senate (the Upper House of Pakistan's Parliament) from 1993 to 1997 and served as secretaries of the flowing committees:
Senate Standing Committee for Defence, Defence Production and Civil Aviation
Senate Standing Committee for Foreign and Kashmir Affairs
Senate Standing Committee for Labour, Manpower and Overseas Pakistanis
Senate Standing for Under-developed Regions including FATA, Balochistan & KPK
Senate Standing Committee for Human Rights
Owing to his highly educated and illustrious professional career, Khurram Nawaz Gandapur served as Secretary General of Pakistan Awami Tehreek. Shaykh-ul-Islam has now appointed him as Secretary General of MQI to benefit from his professional, organizational and administrative capabilities. He has replaced Dr Raheeq Abbasi as MQI Secretary General.