Nation's future hinges on youth: Dr Hussain Mohi-ud-Din Qadri addresses MYL Foundation Day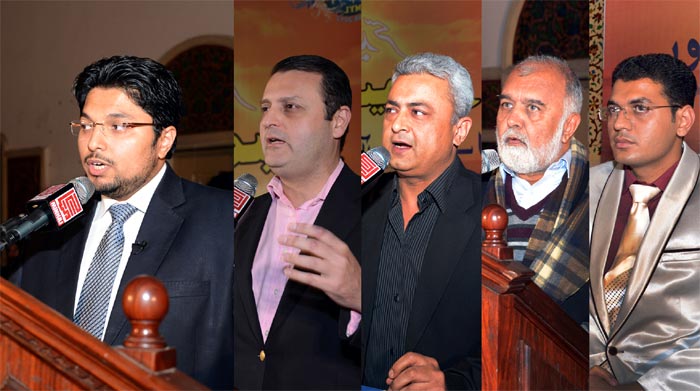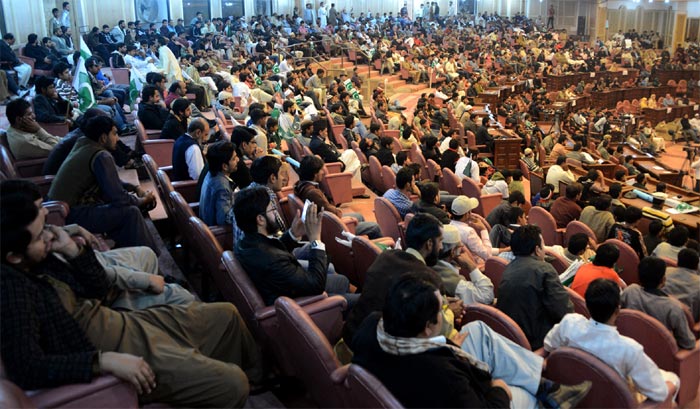 President of Minhaj-ul-Quran International, Dr Hussain Mohi-ud-Din Qadri, has said that history bears witness to the fact that whenever exploitation of the poor reaches unbearable level, a glad tiding of impending revolution emerges. He said that the superior courts had taken up the case of missing persons, adding as to who would hold those responsible who had been denying people's rights with abandon for last 66 years. He said that law and order was missing in Pakistan, so were foreign and homeland policies. He said that policy of honour and national esteem was missing and the laws endowed by the Holy Prophet (peace be upon him) were also missing. He said that we talked of the whole not part. He said that Dr Tahir-ul-Qadri had his eyes on the youth and only the youth are the last hope for change. He said that the first show of power would take place on December 29 followed by public meetings in other cities. He asked the youth to remain steadfast till the ruling elite was sent packing.
These views were expressed by Dr Hussain Mohi-ud-Din Qadri, President of Minhaj-ul-Quran International, in a speech during a seminar titled 'Iqbal's Shaheen and Today's Pakistan' organized by Minhaj-ul-Quran Youth League (MYL) on the occasion of its 25th foundation-day (silver jubilee) at Aiwan-e-Iqbal in Lahore today. Central President of MYL Shoaib Tahir, Waleed Iqbal, PTI leader and grandson of the Poet of East Allama Dr Muhammad Iqbal, senior journalist Saeed Azhar, Presiden of Lahore High Court Bar Association Muhammad Noman Qureshi, Saeed Bhatti, and Hafiz Ghulam Farid were also present on the occasion. The halls of Aiwan-e-Iqbal were full up to their maximum capacity with the workers of MYL, both men and women included.
Dr Hussain Mohi-ud-Din Qadri said that Dr Tahir-ul-Qadri wanted to restore the usurped rights of the people. Referring to the Quaid-e-Azam's vision of Pakistan, he said that the Quaid wanted a country where there was no corruption, where justice held sway and the human rights were upheld. He said that the Quaid-e-Azam wanted a Pakistan where the rulers served masses as their servants, not masters. He said that contrarily the occupying ruling elite had been so drunk with power by sucking people's blood that they were unable to pay heed to the call of the Quaid. He said that today's Pakistan was in clash with what Jinnah envisaged the state to be. He said that these were the youth who had it upon themselves to turn it into Pakistan of the Quaid-e-Azam. He said that they would have to make last ditch effort to make this happen and the time for it was not far away. He said that Dr Tahir-ul-Qadri had given a call of revolution, it was time to prepare. He said that the youth were determined to make Pakistan the country of Iqbal's and Jinnah's vision.
Dr Hussain Mohi-ud-Din Qadri said that the Islamabad Long march was merely a beginning, adding that a new dawn was about to set in which would lead to establishment of real democracy in which human rights would be upheld and the law as desired by the great Quaid would hold sway. He said that 25% of annual budget was consumed in the form of payment of interest on loans previously taken leaving very little for socio-economic development. He said that in these circumstances, it was becoming next to impossible for the poor to make their both ends meet, what to speak of educating their children. He said that terrorism and chaos were rampant in the country today.
Dr Hussain said that today was the 25th foundation-day of Minhaj-ul-Quran Youth League. He said that it was a day of revival of pledge and reiteration of the mission to bring about revolution in the country. He said that those who remained confused between the right and wrong would never reach their destination. He said that revolution came as a result of exploitation of three kinds, adding that the nation was prey to social, economic and political exploitation today. He said that time was not far when the country would see a new dawn of revolution.
Speaking on the occasion, Pakistan Tehreek-i-Insaf leader Waleed Iqbal said that what Dr Tahir-ul-Qadri talked about yesterday proved true and we supported his vision today as well. He said that major reason explaining the downfall of the Muslims was that they abandoned the process of creativity and got themselves bogged down in negative activities. He said that if today's youth acquired the attributes of an eagle as desired by Iqbal, Pakistan would be able to be on the trajectory of stability and socio-economic development.
President of Lahore High Court Bar Association, Muhammad Noman Qureshi, said that MYL deserved to be felicitated, for it was trying to awaken a slumbering nation for last 25 years. He said that changing the system was a difficult task and an immense responsibility and the youth of this country were its real future.
Senior journalist Saeed Azhar said in his views that no matter what the politicians were claiming, the fact of the matter was that all national institutions had been destroyed and eatables and other household items had gone beyond the reach of common man. He said that brute and naked power defined the working of system in this country. He said that hundreds of thousands of cases lay pending in lower courts despite restoration and independence of superior judiciary. He said that Pakistan was a country where the powerful ruled on the basis of their power. He said that Dr Tahir-ul-Qadri had embarked on the mission of founding just and equal society and restoration of people's rights, which was appreciable.
Speaking on the occasion, MYL President Shoaib Tahir said that MYL has given a purpose and direction to the youth by encouraging them to take part in positive and contrastive activities and discarding purposelessness. He said that workers of MYL were talented and peaceful who were playing their role for promotion of peace, harmony and culture of tolerance in the society. He said that 25 years of MYL were part of history in the efforts to guide the youth intellectually out of confusion and mental chaos.
A cake was cut at the end of the programme to mark silver jubilee of MYL.