New body of Bazm-e-Minhaj takes oath for session 2013-2014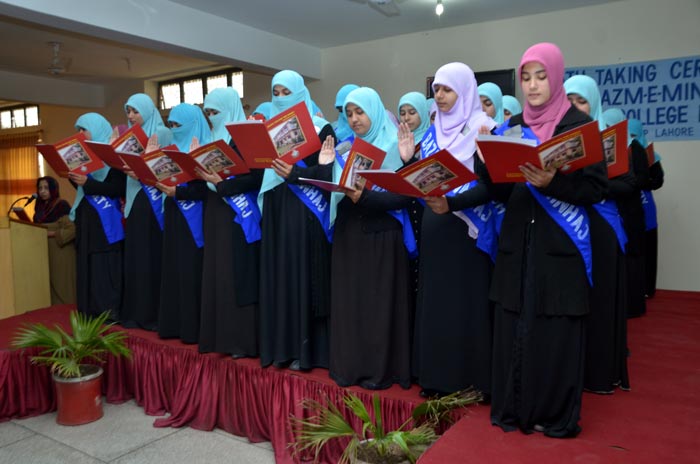 Bazm-e-Minhaj organized an oath-taking ceremony on December 10, 2013 for newly elected members of the Bazm (a small group of highly dedicated, self-motivated, and creative majors and minors who are committed to organizing and hosting a wide range of events to promote co-curricular activities including members of literary societies & forums & class representatives for the session 2013-2014). After the recitation from the Holy verses of Quran, the ceremony was presided by Madam Umme Habiba In charge Bazm-e-Minhaj and Qurat-ul-Ain Zahoor, President Speaker Forum. A number of prominent personalities belonging to academia were invited as guests from reputed institutions.
The Principal of Minhaj College for Women, while speaking at the ceremony, thew light on co-curricular activities being undertaken in the college. She said that these activites were important to equip students with leadership, knowledge, courage and passion. He said that leadership attributes could not be developed in a vacuum and one needed to work on one's personality development to achieve that. Addressing the ceremony Principal Minhaj College for Women said,
"I urge our students to keep oath, pledge to promote the mission of Bazm-e-Minhaj, ideology of Minhaj-ul-Quran on global level and be the pride of Minhaj College for Women".
Students took the oath after Dr. Samar Fatima, promising to serve the student community with honesty and sincerity.
Speaking on the occasion, the President of Bazm-e-Minhaj expressed gratitude to faculty members of Bazm e Minhaj. She said: "Effective leadership is not about making speeches or being liked; leadership is defined by results not attributes". She addressed the audience and assured them that this elected body is not only your real representatives but all of you are part of Bazm-e-Minhaj. All of you have to play your role by serving the college." At the end of the ceremony, the Principal congratulated the newly elected Bazm-e-Minhaj and wished them best of luck on this occasion.