Government lacking vision, will and policy while people suffer: Dr Tahir-ul-Qadri addresses press conference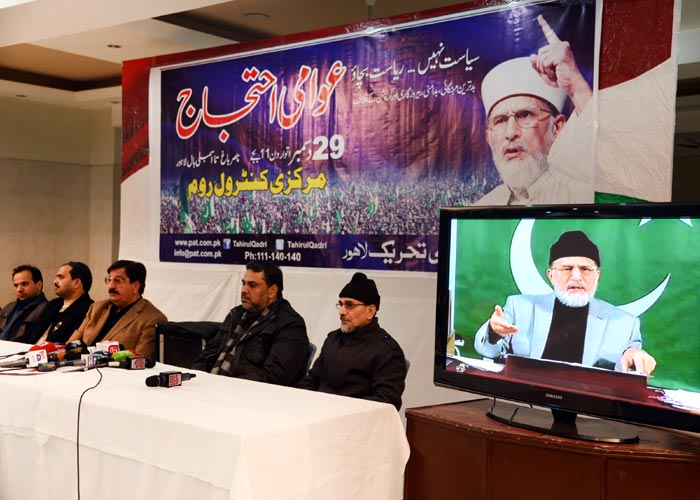 Dr Muhammad Tahir-ul-Qadri, the leader of Pakistan Awami Tehreek, has said that elections in Pakistan are the means to perpetuate the reign of corruption and establishment of dynastic politics. He said that the ruling elite could prosper under the incumbent system as it was geared to protect their vested interest, adding that it was for this reason that they were taking every step to strengthen it at the cost of collective interests of the nation.
Dr Tahir-ul-Qadri said that the government did not have any vision or policy to steer the country out of multiple crises. He said that the government's inaction and lack of vision was more than visible for last six months since its assumption of power as the crises went out of hand making people's lives miserable. He said that the government did not take any step to tackle raging challenges of terrorism, inflation, price hike and target killing except 'managing' media and talk shows.
Dr Tahir-ul-Qadri expressed these views while addressing a heavily attended press conference in MQI's central secretariat on the evening of Friday. He said that corruption was a cancer which was eating into vitals of the state and society, adding that present system protected corruption and corrupt practices. He said that the foundations of Pakistan were being undermined due to bad governance and rampancy of corruption. He said that revolution was need of the hour to save Pakistan from being destroyed. He further maintained that as long as the same ruling elite continued to get into power repeatedly, no change would come about and the people would continue to suffer even more. He said that Election Commission was part of the problem and responsible for putting the same breed of corrupt people into power.
Dr Muhammad Tahir-ul-Qadri said that PAT would take out mammoth protest rally on December 29 in Lahore and the purpose of arranging the demonstration was to protest skyrocketing inflation, price hike, phenomenal raise in power tariff, terrorism and target killing. He said that PAT was struggling for restoration of people's usurped rights and implementation of fundamental rights that were sanctified by the Constitution of Pakistan. He made it clear that he would not take part in the rallies of PAT, adding that he would join the struggle during the final and decisive phase.
Dr Qadri said that the Opposition was not raising public issues in Parliament and none of them had the courage to question the Prime Minister's continued absence from Parliament. He said that it appeared that the government and the Opposition were doing politics of 'muk muka'. He said that he stood by the poor and downtrodden sections of society who were the worst victims of the flawed system. He said that his struggle was for the people.