Protest rally to tell rulers 'enough is enough': Dr Hussain Mohi-ud-Din Qadri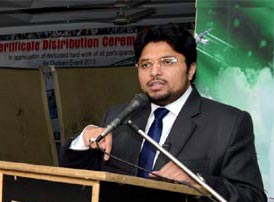 President of PAT's Federal Council, Dr Hussain Mohi-ud-din Qadri has said that cancer of corruption has undermined the institutions and eaten into vitals of the society. He said and the monster of price hike was swallowing the poor. He said that the continuity of policies that seek to make things miserable for the large masse of people was snatching from them their right to life as well. He said that the ruling elite considered the masses as their slave and imposed the system of oppression on them in the name of democracy. He said that PAT's protest rally on December 29 would prove to be a milestone in the efforts for raising public awareness and breaking shackles of oppression.
Dr Hussain Mohi-ud-Din Qadri expressed these views while talking to members of the central committee established to make arrangements for the upcoming rally on next Sunday. President PAT Sheikh Zahid Fayyaz, Secretary General Khurram Nawaz Gandapur, President National Executive Council UK Muhammad Afzal Saeedi, Bashrat Aziz Jaspal, Jawad Hamid, Qazi Faiz-ul-Islam and other office holders of various chapters of PAT were also present on the occasion.
Dr Hussain Mohi-ud-Din Qadri said that the people of Lahore would prove on December 29 that they disapproved of family domination and sought to establish a government representing their aspirations. He said that the people needed to come out of their homes to express their rejection of the anti-people policies of the government. He said that those who were hoping for a revolution should understand that nothing would happen by sitting home. He said that it was demand of national honor and patriotism that the people took to streets in such a great number that the entire country could see the sight of a revolution. He said that PAT had pledged to struggle for safeguarding the rights of the succeeding generations. He said that if people supported Dr Tahir-ul-Qadri, no one could stop revolution from happening.
Dr Hussain said that the performance of the government in first six months was known for its anti-people policies. He said that those who put the state enterprises on loot sale were beholden to their own interests. He said that if the ruling elite, which was devoid of vision and commitment to people, were allowed to stay on in the corridors of power for a long time, the country's stability would be further compromised. He said that if the foundations of the country's economy were allowed to be undermined by crony capitalism, corruption, nepotism and parochial political interests, it would render country bankrupt.
He appealed to the citizens of Lahore to attend the protest rally in their large numbers and give message to the ruling elite that the reign of loot and plunder would not be tolerated any more. He said that PAT was struggling to restore people's rights according to the Constitution of Pakistan.