Dr Tahir-ul-Qadri congratulates Christian community on Christmas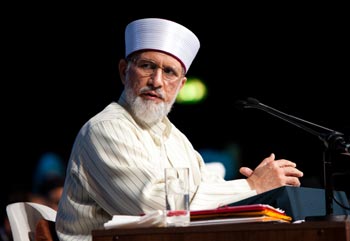 Shaykh-ul-Islam Dr Muhammad Tahir-ul-Qadri, the leader of Pakistan Awami Tehreek and founder of Minhaj-ul-Quran International, has congratulated the members of Christian community living in Pakistan as well as around the world on the auspicious occasion of Christmas.
In his felicitation message, Dr Tahir-ul-Qadri said that Christmas is an occasion of festivity that marks the birth anniversary of Jesus Christ. He said that while celebrating the festival, it is important to remember the message of peace, love and harmony espoused by Jesus Christ. He said that challenges the world is confronted with today can be effectively and successfully tackled by acting upon this message of peace and love.
Dr Qadri said that interfaith dialogue and proactive engagement is the way forward for followers of different cultures, civilizations and faiths to develop understanding and commonality of views on the challenges facing the world. He said that peace is the essential message of every faith and it is moral and religious duty of followers of all faiths to work for promotion of peace and love in the world.
Dr Tahir-ul-Qadri said that those who misuse the fair name of their religions and spread hatred and strife in the world are the worst enemies of humanity, adding these elements have hurt the harmonious relationship and bonds of love among the creations of Allah Almighty. He further said that at the same time, they have also brought a bad name to their respective religions through their misguided actions. He urged the followers of all religions that there is a dire need to remain wary of these people and exhibit unity in our ranks to foil their evil designs.
Dr Muhammad Tahir-ul-Qadri said that the nature of our multi-cultural and globalized world demands of us to join hands and put up a united front against contemporary challenges. He said that we have common stakes in future and it is our collective responsibility to rise up as followers of our two great religions. He said that it is our duty to build bridges and eliminate hatred and violence from the world.
Dr Qadri also paid glowing tributes to the Pakistani Christians for their national services and contributions to the socio-economic development of the country. He said that MQI would continue to work for interfaith dialogue, harmony and peace in the world.