40 leaders of various parties announce to take part in PAT rally
PAT protest rally to be seminal point of revolution: Khurram Nawaz Gandapur
Elections have become disputed.
State-owned enterprises to be put on loot sale in the name of privatization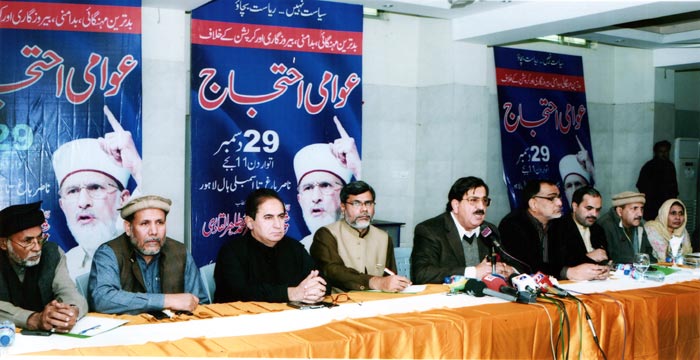 The PAT rally against price hike and corruption will prove to be a seminal point of green revolution. Questions marks have been raised on elections. The train of the government, not democracy is going to be derailed. All 'modalities' have been settled to sell state-owned enterprises. The government has imposed an extra burden of Rs. 900 billion on the people as a result of price hike. Nawaz Sharif could not become cricketer or Tehsildar but this nation made him the Prime Minister of the country. There is no real opposition in Parliament and PAT is the only party playing the role of an effective opposition. More than 40 leaders and representatives of political and religious parties, farmers, students, lawyers, labourers, traders and social activists have announced to take part in the PAT protest rally on Sunday.
These views were expressed by Khurram Nawaz Gandapur, Secretary General of Pakistan Awami Tehreek while addressing a press conference in Lahore yesterday. The leaders of Anjman Talba-e-Islam, Labour Qaumi Movement, Pakistan Muslim League Haqiqi, Railway Mazdoor Ittehad, Save Judiciary Committee, Pakistan Ghurba Party, Tehreek Mohabbat International, Pakistan Economic Development Forum, Pakistan Small Trade and Cottage Industry, Pakistan Labour Federation, Pakistan Restaurant Association, Voice of Journalists, Pakistan Awami Qayadat Party, and Anjuman Mazaraeen Punjab were also present during the press conference.
Khurram Nawaz Gandapur said that the elections had become disputed as both the winners and losers were protesting and alleging that massive rigging took place in these elections. He said that no party was representing aspirations of the people in Parliament. He said that those who had been raising hue and cry over alleged derailment of democracy were about to be derailed themselves as they failed to address public issues.
Bashrat Aziz Jaspal, the President of Punjab chapter of PAT, said on the occasion that the government had miserably failed to provide basic necessities of life to the people. He said that private family businesses of the ruling group were progressing by leaps and bounds while the state-owned enterprises were down the slippery slope and tipped to be put on the loot sale in the name of privatization. He said that the process of privatization was meant to reward cronies. He said that phenomenal surge in prices of edibles was the outcome of failed economic policies of the government.
President of PAT Punjab chapter said that huge assets of the federal finance minister of worth Rs. 450 billion had a question mark around them. He said that the people of Pakistan had been mired in the abyss of problems, adding that Dr Tahir-ul-Qadri was the only ray of hope during these hard and trying times. He said that the hundreds of thousands of labourers would join the caravan for change on his call. He said that Dr Qadri had awakened a slumbering nation and the people were supporting his revolutionary agenda. He said that a handful of families had established their domination on the state resources. He said that revolution was the only answer to break their domination and monopoly.