Facebook page of Dr Tahir-ul-Qadri gets one million fans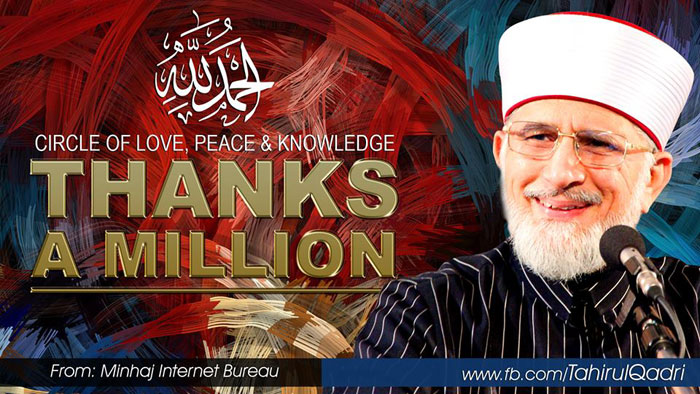 Facebook page of Shaykh-ul-Islam Dr Muhammad Tahir-ul-Qadri namely FB/TahirulQadri achieved the historic milestone of one million fans. Following this phenomenal accomplishment, Abdul Sattar Minhajian, Director of Minhaj Internet Bureau, has congratulated the internet users and volunteers of social media. He said that the only personality from amongst the Pakistani leaders being given unprecedented space on social media and discussed at large is that of Dr Tahir-ul-Qadri. He said that his facebook page was being liked by the internet users more than that of any other leader. The acknowledgement of Dr Qadri's services was indication of the fact that he devoted his life to the promotion of interfaith dialogue, peace and harmony in the world.
Abdul Sattar said that Dr Tahir-ul-Qadri played a leading role in raising awareness about the perils of the incumbent system. He said that his struggle for establishment of real democracy in the country formed a glorious chapter in the history of the country. He maintained that historic reception accorded to him on his arrival in Pakistan on December 22, the Islamabad Long march and sit-in were meant to draw people's attention to their fundamental rights which were being usurped by the ruling elite. He said that though politicians and some of the media men ganged up against him, the post-election scenario vindicated what Dr Qadri had been saying all along. Whatever he said before the elections proved correct cent per cent after it.
The Director of Minhaj Internet Bureau said that the demands raised by Dr Tahir-ul-Qadri were derided and ridiculed before the elections and an opportunity was provided to the tax evaders, defaulters, fake degree holders and loan cheats to get into the assemblies under the fake system. He said that time proved that about half of the members currently sitting in the legislatures were tax evaders. He said that it was vision of Dr Tahir-ul-Qadri that he exposed the fallacy of the system and predicted the outcome of electoral exercise well before time. He said that those who raised the slogan of change proved to be an utter failure in shaking the status quo. He said that they were outsmarted by the vested interests to the disappointment of the common man.
Abdul Sattar said that popularity of Dr Tahir-ul-Qadri's message and promotion of his thought on social media showed that the process of preparing ten million 'namazis' continued with full vigor and pace. He said that the scope of public awareness campaign was being widened to length and breadth of the country. He said that the people now knew that Dr Tahir-ul-Qadri was the only voice of real change in the country. He said that dozens of websites of MQI were also playing effective role in raising people's awareness in addition to social media.