Peaceful revolution is my destination: Dr Tahir-ul-Qadri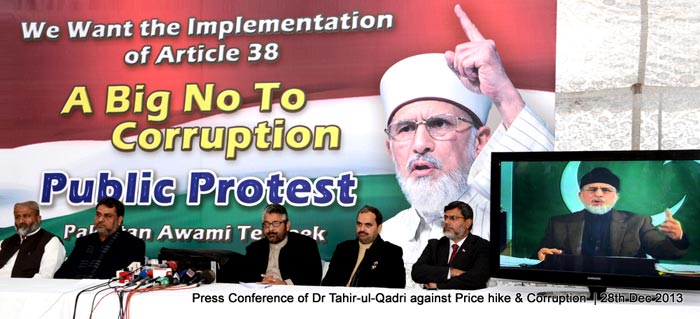 The rulers will be shooting themselves in the foot if they tried to hamper the protest rally being organized under the banner of Pakistan Awami Tehreek on Sunday. PAT is engaged in raising public awareness against rampant corruption, deep-rooted unemployment, and disappointing governance. My journey is peaceful and democratic revolution. We are committed to transfer power to the masses even if I have to embrace martyrdom in the process.
Pakistan Awami Tehreek leader Dr Muhammad Tahir-ul-Qadri expressed these views while addressing media through video link on Saturday evening on the eve of PAT's historic protest rally against corruption, unemployment and massive price hike.
Dr Muhammad Tahir-ul-Qadri appealed to the Supreme Court to take suo motu notice of loot sale of state-owned enterprises and their handover to the cronies in the name of privatization. He demanded that the members of Parliament who were tax defaulters and concealed sources of income should be disqualified. He said that two/third of legislators currently sitting in legislatures committed the crime of supplying wrong information in their nomination forms, adding that they concealed their real income, and thus violated the electoral laws, income tax ordinance as well as laws of the land. He said that these members of Parliament deserved to be disqualified from holding public office and put behind bars for a minimum of two years under the relevant laws.
Dr Tahir-ul-Qadri said that the members of the same family were holding dominant positions and complete control on levers of power and state resources who were more interested in filling up their private coffers by selling the public sector enterprises for merely a pittance. He said that the Apex Court should establish an independent commission and stop this process of loot sale at a massive scale.
Dr Qadri asked those who raised a lot of hue and cry over the alleged derailment of democracy as to where democracy existed in the country. He said that democracy was all about application of duress, misuse of resources and rigging in the eyes of the ruling elite, adding that uninterrupted access to information, transparency and accountability were marked features of real democracy. He said that the version of democracy currently in practice in Pakistan was in fact the worst form of authoritarianism. He said that the Prime Minister was duty bound to tell the nation as to which objective his 13 foreign trips achieved and what good these junkets brought for the nation. He said that the present rulers printed the notes of 1000 billion rupees since assuming power which was major reason behind rampant unemployment and massive surge in price hike.
Dr Tahir-ul-Qadri said that he waged a struggle for electoral reforms previously and also knocked at the door of the Supreme Court for this purpose. He said that he had now challenged the system and would go to the court of the people to change this corrupt and oppressive system. In a reply to a question, he said that phased struggle was underway for revolution, adding that his real asset was his workers. He said that he would come to Pakistan at an appropriate time.