The News: Qadri terms Election Commission as 'child of corruption'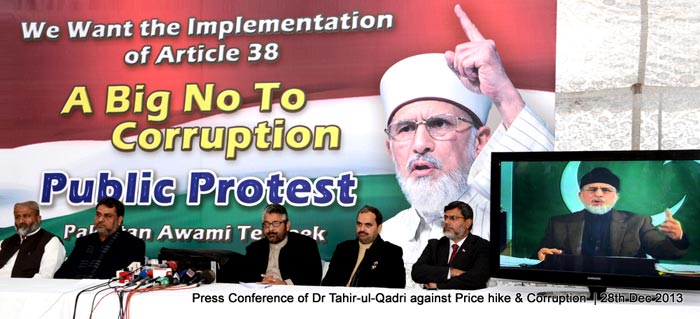 LAHORE: Bemoaning the scourge of corruption, Pakistan Awami Tehreek leader, Allama Tahirul Qadri Saturday said it was not the country anymore that Quaid-e-Azam Mohammad Ali Jinnah had founded, Geo News reported.
"Anarchy and 'plot mafia' (squatters) rule this Pakistan", Qadri said while speaking to a gathering here in Model Town via video link from Canada.
He announced a protest demonstration against the double-digit inflation, unemployment, and corruption, which Qadri predicted would become the harbinger of a peaceful revolution.
"The government will shoot itself in the foot if it resorts to any unethical maneuvers to embarrass our demos", Qadri said warning the rulers.
Asserting that Pakistan was devoid of democracy at the moment, Qadri also alleged that the Election Commission of Pakistan (ECP) was the "child of corruption."
Source: http://www.thenews.com.pk/article-132103-Allama-Tahirul-Qadri-terms-ECP-as-child-of-rigging