PAT protest rally against inflation, corruption underway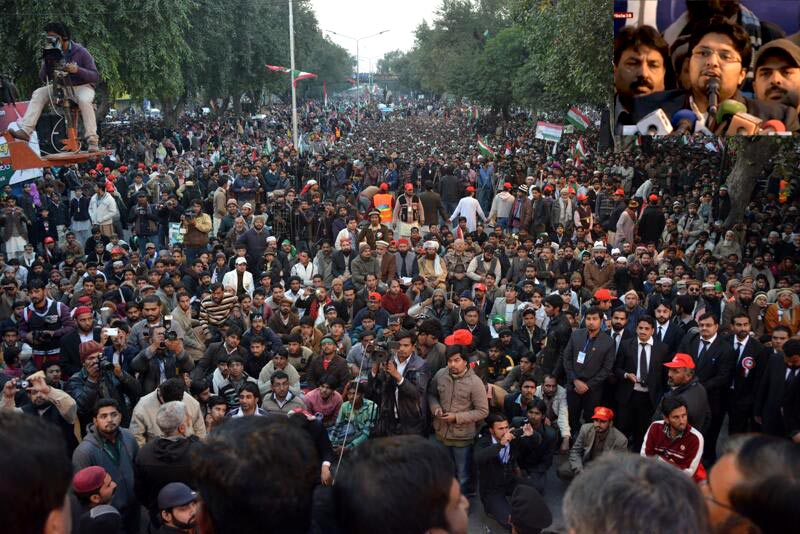 The PAT protest rally against inflated prices, joblessness and corruption has started from Nasir Bagh, Lahore. PAT Federal Council president Hussain Mohi-ud-Din Qadri is leading the rally. Further motorcades are joining the procession. When the rally reaches Faisal Chowk in front of the Punjab Assembly, the patron-in-chief of PAT, Dr Tahir-ul-Qadri, will address the participants. Large screens have been installed at the Regal Chowk facilitating the people to listen to the video-link address of the PAT chief to the rally.
Forty political parties, labourers, peasants, students, businessmen and social workers – a sea of people – are present in the rally. The activists and supporters of PAT are holding the flags of Pakistan as well as that of the PAT and are voicing slogans against the crooked system and disorder in the country. Young, old and children along with women are demanding the implementation of Articles 38 of the Constitution. The general people, fed up with the bad governance and downward economy, have taken to the streets. During the last six months, the rulers gave nothing to the people but misgovernment.
In Pakistan, corrupt, unjust and unfair polls have given birth to a sham democracy; what is democracy in the eyes of the ruling elites is in fact dictatorship in the eyes of the general public. The series of PAT protests are meant to replace the political dictatorship with democracy – the government of the people, by the people and for the people.