Geo News: Time is ripe to wage a revolution: Tahirul Qadri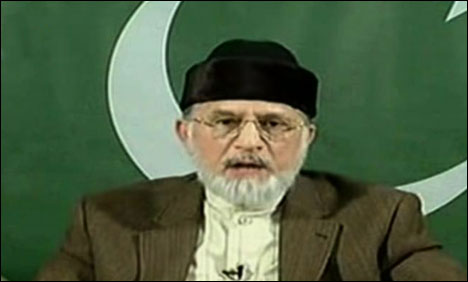 LAHORE: Chairman Pakistan Awami Tehreek (PAT) Dr. Tahirul Qadri Sunday said revolution can come about in just 24 hours if the people instead of fuming at homes come out to protest against the corrupt system.
"The time is ripe to take the road towards waging a revolution," Dr. Tahirul Qadri snapped while addressing from Canada via video link the participants of a rally staged against price hike, unemployment and corruption here.
He warned the rulers to give people their rights or else they will take the power back from them.
Dr. Qadri observed that decisions were being taken without taking the people or parliament into confidence and that the government entities having potential to earn profits were incurring losses due to being infested with corruption.
He alleged that the people at the helm of the government were indulging in nepotism while innocent people continue to expect good deeds from these rulers.
The PAT Chief said the terrorism will only be eliminated at least one year after a peaceful revolution in the country where we 'we neither want extremism nor Mulla-ism'.
Earlier, the PAT rally started from Nasir Bagh and marched up to Faisal Chowk in front of the Punjab Assembly.
Activists and supporters of the PAT voiced slogans against inflation and disorder in the country. Handouts and pamphlets were also distributed among the general public, inviting their co-operation and support for making the rally a success.
Heavy contingents of police were deployed at Nasir Bagh, Chowk Anarkali, High Court Chowk, Regal Chowk and Charing Cross Chowk.
Large screens had been installed at the Regal Chowk facilitating the people to listen to the video-link address of PAT chief Dr Tahirul Qadri to the rally.
Source: http://www.geo.tv/article-132205-Time-is-ripe-to-wage-a-revolution-Tahirul-Qadri-