Shaykh-ul-Islam working for uplift of non-Muslims citizens: Sohail Ahmad Raza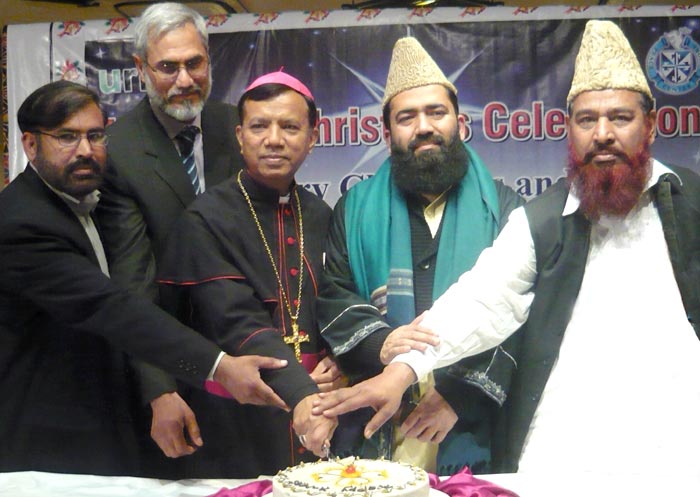 United Religious Initiative Pakistan and Peace Centre Lahore jointly arranged a ceremony to mark the advent of year 2014 and Christmas in a local hotel in Lahore on December 31, 2013. Sohail Ahmad Raza, Director of Interfaith Relations and Muhammad Ashraf Khokhar, President of Peace and Integration Italy, attended the ceremony on the special invitation of Dr James Chanan, Youail Bhatti and Sabeena Riffat. Arch Bishop of Lahore, Bishop Robert Sabtain, was the guest of honour at the occasion. Other distinguished guests who attended the ceremony included Dr Marqas Fida, Father Francis Nadeim, Sardar Janam Singh, Pundit Baghat Lal, Allama Abdul Khubair Azad, Allama Shifat Rasul, provincial minister for minority affairs Tahir Khalil Sandhu, Pastor Anwar Fazal, Pastor Shahid Miraj, Mufti Ashiq Hussain, and Dr Kunwal Feroz.
In his brief remarks on the occasion, Sohail Ahmad Raza felicitated the Christian community on the auspicious occasion of Christmas. He also lauded the role of the Christian brothers and sisters in the national development. He said that there was a greater need to develop more understanding among the followers of different religions to defeat the monsters of terrorism, extremism and profiling along racial and religious lines. He said that Shaykh-ul-Islam Dr Muhammad Tahir-ul-Qadri was playing a leading role in building bridges among different faiths and cultures. He said that Dr Qadri was a strong voice for equal rights of the non-Muslim communities living in Pakistan, adding that MQI would continue to espouse the cause of non-Muslim citizens living in the country. He said that time was not far when all segments of society including our non-Muslim brethren would get back their due rights. He expressed his best wishes for New Year.
The ceremony concluded with the cake-cutting.