Dr Tahir-ul-Qadri condemns killing of SSP (CID) Ch Aslam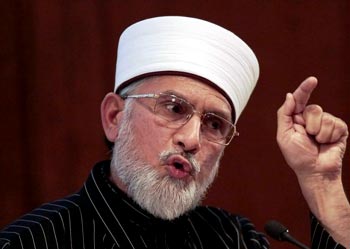 PAT leader Dr Muhammad Tahir-ul-Qadri has strongly condemned the killing of SSP (CID) Chaudhry Aslam and other police officials in Karachi when a vehicle laden with 20-25 kg explosive material hit the car of the martyred SSP Thursday evening. Paying rich tribute to the police officers, Dr Qadri said that Chaudhry Aslam was a very brave and fearless police officer who laid down his life in the line of duty. Terming the martyrdom of SSP Ch Aslam as a tragedy, he said that the millions of people suffered from insecurity, adding that situation warranted formulation of solid, workable anti-terror policy and its immediate implementation. He said that those who played havoc with lives of the innocent people and challenged the state were brutes and should be dealt with iron hands.
Dr Tahir-ul-Qadri said that Ch Aslam was a conscientious and brave police officer who took on the extremists from the front and set a great example of leadership and bravery. He said that the performance of present Parliament which came into being as a result of fake elections was for everyone to see. He said that the people were at the mercy of terrorists while the political elite were busy in safeguarding their interests. He asked the people to play their role as agent of change instead of dying at the hands of the system. He said that collective awareness and concerted action would bring about prosperity and progress.