Dr Tahir-ul-Qadri condemns bomb blast on Tableeghi Markaz in Peshawar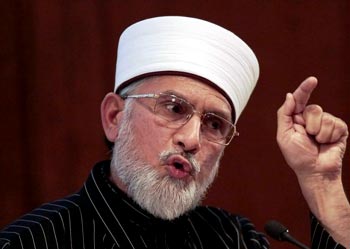 Condemning the bomb blast on a Tableeghi Markaz in Peshawar in the strongest possible words, PAT leader Dr Muhammad Tahir-ul-Qadri has said that continuation of terrorist activities is the outcome of the failed policies. He said that those who perpetrated horrible acts of terrorism were enemies of humanity, Islam and Pakistan. He said that unending spate of terrorism meant that the state had been paralyzed in the face of stiff challenge to its security and sovereignty. He said that curse of terrorism was eating into vitals of peace and stability besides bringing a bad name to the country at the international level.
Dr Tahir-ul-Qadri asked the government to deal with the masterminds of terrorism with iron hands and eliminate the fundamental causes that fostered this scourge. He underlined the need of forging unity in our ranks to deal with the handful of terrorists. He prayed to Allah Almighty to rest the departed souls in peace and grant patience to their families.