Dr Tahir-ul-Qadri condemns new wave of terrorism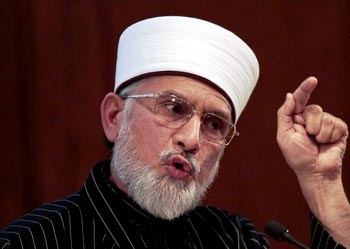 PAT leader Dr Muhammad Tahir-ul-Qadri has strongly condemned the suicide blast in RA Bazaar Rawalpindi and killing of two dozen security officials in a blast in the strongest possible words. He said that the government's inaction and indecisiveness had emboldened the terrorists who were taking on the security forces with abandon. He said that the country lacked an effective policy to eliminate terrorism in the country, adding that the country had been in the thick of this war for well over a decade now and there was no policy to uproot the biggest and most lethal challenge to the national security. He said that the government failed completely to improve law and order situation in the country. He said that the new wave of terror presented fresh challenge. However, he added in the same breath that there was little hope that things would improve.
Dr Tahir-ul-Qadri prayed to Allah Almighty to rest the departed souls in peace and give patience to the bereaved families. He also prayed for early recovery of the injured in these blasts.