Dr Tahir-ul-Qadri asks Imran Khan to reject system & side with people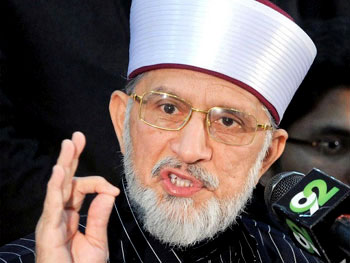 PAT leader Dr Muhammad Tahir-ul-Qadri has said that the rulers are pushing the nation into anarchy and bleak future due to their corruption, incompetence and dictatorial mindset. He said that the imposition of martial laws had been a consequence of high-level corruption and extreme incompetence of political leaders, adding that the military dictators never wanted to take over power on their own. He said that the hundreds of people, and security personnel were dying in suicide attacks, target killing and bomb blasts, while the government was putting up a façade of negotiation with the Taliban. He said that the rulers were non-serious and establishment of peace, control on price hike, unemployment and lawlessness did not figure anywhere on their agenda. He said that law of the land was not being complied with and the rulings of the apex court were being pushed under the carpet.
Dr Tahir-ul-Qadri expressed these views while addressing the meeting of executive council of PAT through video link the other day. Sheikh Zahid Fayyaz, Khurram Nawaz Gandapur, Qazi Faiz ul Islam, Jawad Hamid, Sajid Bhatti, Ch Afzal Gujjar and GM Malik were also present at the occasion.
Dr Qadri said that the Supreme Court ruled that the heads of the 58 public sector enterprises should be appointed on merit and these offices should not be doled out among the loyalists, favourites, cronies and relatives, adding that 3-member high-power Commission was constituted for this purpose. He said that the present Prime Minister of the country had withdrawn the power of appointing heads of 34 state entities from the Commission and handed over the power of appointment to his incompetent ministers. He said that the Supreme Court's ruling on the matter had been violated with abandon. He asked as to why those who took suo moto notices were mum on this all-important issue?
Dr Tahir-ul-Qadri said that the law of the land was not being implemented both in letter and spirit, and the blood of the people was being shed like water, further saying that the rulers had brought the country to the brink of destruction for their vested interests as well as to appease their foreign masters. He said that PAT would not only save the country from the martial law but also end a reign of loot and plunder through people's revolution. He said that the occupation of the country by the powerful ruling elite would be wrested and the powers would be handed over to the people who were real and legitimate stakeholders.
Dr Tahir-ul-Qadri said that he had best wishes for PTI chief Imran Khan, adding that Khan should not ride two boats. He said that if Imran Khan did not accept the system based on rigging and foul play, then he should come out of it and launch a struggle against this exploitative system. He said that 180 million people were a party of the oppressed and the suppressed while a few hundreds families that knew the art of coming into power through the sham elections had been playing with their destiny. He said that the politicians were adept in looting and plundering national resources. He said that they would earn billions of rupees in a span of four/five years during power, adding that one portion of the looted money is earmarked for expenditure on next elections wherein 'bardaris' and rascals are bought to ensure their 'victory' at the hustings.
Dr Qadri said that those who wanted real change in the country would have to make a choice between two options. He said they would have to decide whether they would continue to be part of the system or side with the people by rejecting it. He asked Imran Khan to make a decision in regard and if he concluded that the elections based on rigging were a complete fraud, then both of them should join their forces. He said that he would give call of revolution soon in that case. He said that Imran should join hands with PAT with a clear mindset as the system would not give him anything. He said that powerful privileged elite would continue to suck the blood of the nation while the people would continue to suffer. He said that the change would never come by becoming part of the corrupt system.
Dr Tahir-ul-Qadri said that if Imran Khan rejected this system and came out against it, revolution would come soon. He said that when two forces would launch their struggle for revolution, millions of people would join it.