PAT blasts government's economic policies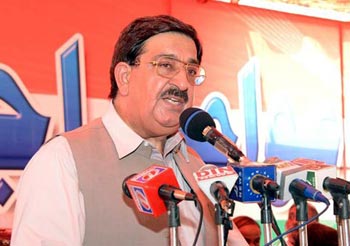 PAT Secretary General Khurram Nawaz Gandapur has blasted the government's economic policies for their failure to contain price hike and end energy crisis. He said that these policies, on the other hand, were instrumental in making people's lives miserable and adding to their woes. He said that the practice of increasing power tariff continued unabated with marginal and fake relief given here and there before major hike in its prices. He said that the government withdrew subsidy that was previously given to the power sector, which resulted in inflated bills making the electricity unaffordable for the people in Pakistan.
PAT Secretary General made these remarks while talking to office holders of PAT Punjab in his office in Model Town the other day. PAT Punjab President Bashrat Aziz Jaspal, Zulifkar Advocate, Amjad Hussain Jutt, Tanvir Khan, Afzal Gujjar, Ghulam Farid and M.H. Shaheen were also present in the meeting.
Khurram Nawaz Gandapur said that a political party that came into power on the promise of giving employment opportunities to the youth was bent on exploiting them as space in the job market further contracted due to the government policies. He said that loan schemes were launched with such terms and conditions that it would be impossible for the poor youth to get any benefit from them. He said that it appeared that the government did not have any plan to provide relief to the inflation-stricken people. He said that people would have to play their role to come out of long spell of darkness and disappointment, adding that their salvation lay in revolution and peaceful change.