Seminar: Teachings of Sayyidna Tahir Alauddin Al-Qadri Al-Gillani and end of terrorism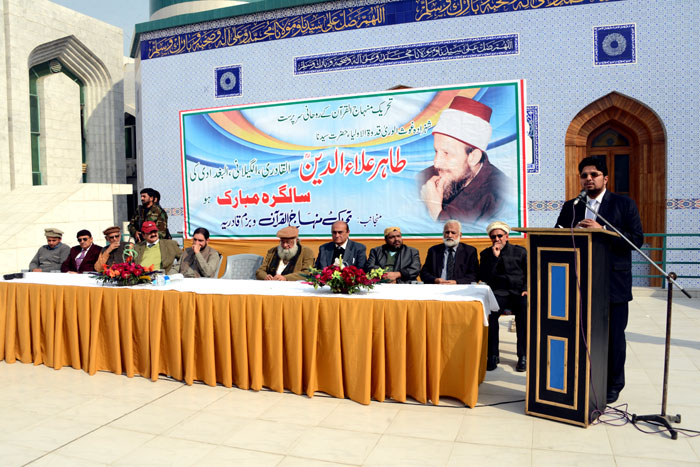 President of Minhaj-ul-Quran International Dr Hussain Mohi-ud-Din Qadri has said that Shaykh-ul-Mashaykh Qudwa-tul-Auliya Hazrat Sayyidna Tahir Alauddin Al-Qadri Al-Gillani is the name of the blazing sun of the world of spiritualism with whose blessed rays Minhaj-ul-Quran International was founded and which gave such an impetus to this mission that every coming moment became a harbinger of the movement's acceptance, and expansion. He said that a personality of Dr Tahir-ul-Qadri's stature is inheritor as well as guardian of his intellectual, scholarly, and revolutionary thought. He said that Islam has nothing to do with conservatism, narrow-mindedness and bigotry, adding that it is a religion of peace, harmony and safety. He said that the teachings of Sayyidna Tahir Alauddin Al-Qadri Al-Gillani and other Sufis furnish practical guidelines for establishment of peaceful society. He said that the Sufis urge and shape an individual to become an ambassador of peace and love in the society and their teachings are not restricted to the Muslims, rather they have universal appeal. He said that the Sufis blessed hundreds of thousands of hearts with purity of thought and action, internal purification, and love. He said that Fatwa against terrorism and suicide bombing authored by Shaykh-ul-Islam Dr Muhammad Tahir-ul-Qadri represents the teachings of the Sufis and is playing a leading role in dilution of terrorism and extremism from the world. He said that the teachings of Sayyid Tahir Alauddin al-Qadri are an antidote against terrorism and extremism and if we implement them in our lives, the society can become a hub of peace.
Dr Hussain Mohi-ud-Din Qadri expressed these views while addressing a seminar on the topic of 'Teachings of Sayyidna Tahir Alauddin Al-Qadri Al-Gillani and end of terrorism' organized jointly by MQI and Bazm-e-Qadria in MQI's central secretariat in Model Town in connection with the birth anniversary of MQI's spiritual patron. The seminar was attended by a large number of people including religious scholars, Mashaykh, disciples and MQI leaders and workers. The distinguished guests who attended the seminar included MQI Amir Sahibzada Faiz-ur-Rehman Durrani, Pir Sayyid Muhammad Sarfraz, Rana Fayyaz Ahmad, GM Malik, Shahzad Rasool, Saeed Akhtar and others.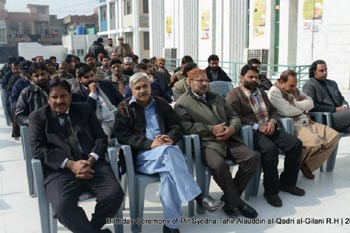 Dr Hussain Mohi-ud-Din Qadri said that protection of Islamic beliefs, revival of religious and spiritual values, promotion of teachings of the Sufis and spiritualism, and eradication of extremist and terrorist attitudes are the need of the time. He said that MQI condemns such negative attitudes and bigoted mindset at all levels. He said that the Sufis set their personal precedents and changed the destiny of the millions of people through their character. They, he said, are great advocates of love and peace. He said that though spiritual leaders and Mashaykh are doing a lot of commendable work for the promotion of peace and elimination of terrorism and extremism, yet a lot more needs to be done. He said that our dear motherland, Pakistan, is hit by unending spate of terrorism and conspiracies were being hatched against Islam and Pakistan. He said that the assemblage of religious and spiritual leaders in such large number in today's seminar reflects that all spiritual chains want peace and tranquility in the country.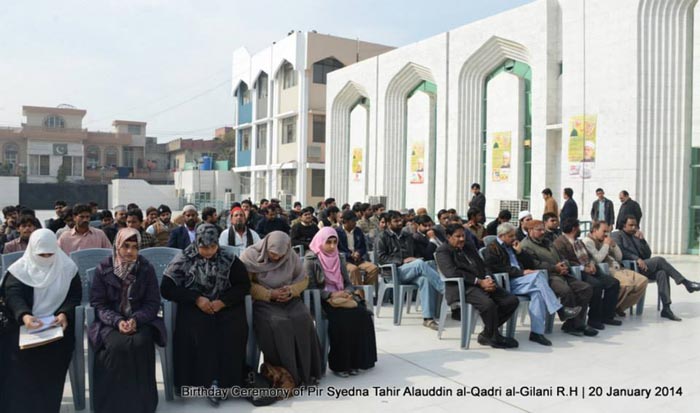 Dr Hussain Mohi-ud-Din Qadri said that MQI has worked out a comprehensive spiritual training manuel in consultation with the respected Mashaykh, which are instrumental in propagating the message of peace, love and harmonious co-existence in the society. He said that one-year comprehensive programe of spiritual training will be formulated wherein the religious scholars would deliver talks and lectures at spiritual centres, which will have a positive impact in the society. He said that women will also be special focus of this training programme, adding that their education and training is of equal importance.
Dr Hussain said that on the birth anniversary of Sayyidna Tahir Alauddin al-Qadri al-Gillani, we will have to make a pledge to continue to play our role for promotion of peace, love and harmony in the society with renewed vigor and commitment. He said that it is through spread of spiritualism that society can be rescued from the abyss of materialism. He said that today's ceremony is a witness that religious scholars and Mashyakh are aware of their onerous responsibilities in this regard. He also stressed the religious scholars to acquire modern education so that they can be in a position to fight off modern-day challenge and make their preaching effective and result-oriented.