PAT's revolution to replicate governance model of Madina state: Dr Hassan Mohi-ud-Din Qadri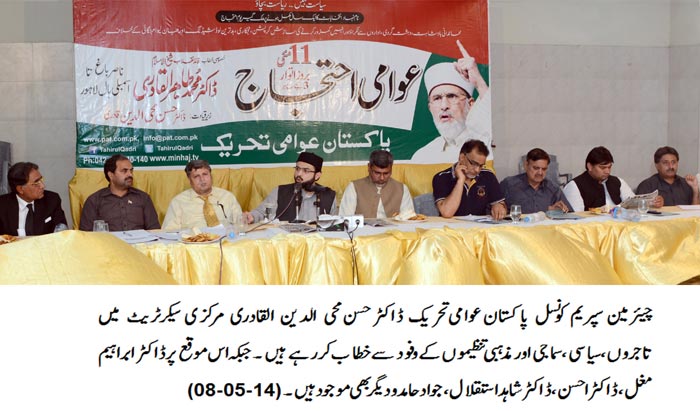 Chairman Supreme Council of Pakistan Awami Tehreek, Dr Hassan Mohi-ud-Din Qadri, has said that the poor have been compelled to commit suicide and sell their kidneys owing to massive price hike, unemployment, injustice and load-shedding. He said that there was a need to remain steadfast and firm in the struggle to enforce Hussaini system and send the Yazidi system packing. He said that it was no time to bow down but to move forward to snatch one's usurped rights, adding that we would implement the system of Madina. He said that Dr Tahir-ul-Qadri was waging struggle for the rights of the minorities. He said that we would fight the war of saving the state under his leadership.
Dr Hassan Mohi-ud-Din Qadri expressed these views while meeting various delegations of political, religious, traders, and social organizations at the central secretariat the other day. Hassan Rana of PTCL Union, Ibrahim Mughal, Chairman Agri Forum, Syed Ali Raza, Chairman Tehreek-e-Istehkam-e-Pakistan, Maher Abdul Haq, central Secretary of Kiln Owners Association, Shahid Butt, President All-Pakistan Restaurant Association, Badar Chishti, General Secretary Pakistan Faleh Party, Malik Muhammad Tufail, Chairman Economic Forum Pakistan, Pundit Baghat Lal, Abdur Rashid Qureshi, Chairman Save Judiciary Committee, Dr Ahsan, Sohail Ahmad Raza, Muhammad Jawad Hamid, Haji Muhammad Ishaq and Shahzad Rasool Chaudhry were also present at the occasion.
Dr Hassan Mohi-ud-Din Qadri said that the people would come out of their homes in their hundreds of thousands and give message to the ruling elite that the sun of their rule could set any day, adding that green revolution had become destiny of this country. He said that the corrupt and oppressive system had worsened the situation so much that the poor and the downtrodden sections of society were forced to sell their kidneys to make their both ends meet. He said that the mothers were throwing their kids into canals and rivers out of sheer poverty and those affected by hunger were eating the meat of the dead bodies, whereas the ruling elite was going about their usual ways of enjoyment as if everything was okay.
The Chairman of the Supreme Council said that we would replace this oppressive system with the one which was in vogue in the city state of Madina where the Holy Prophet (SAW) established an ideal state and gave equal rights to all citizens irrespective of their caste, colour and creed. He said that the revered Prophet (SAW) made Madina the hub of peace and love where none went without food and people tried to outdo each other in helping those in need. He said that Pakistan would be divided into 35 provinces on the pattern of 14 provinces of the state of Madina and thus the people would be delivered their rights at their doorsteps.
Speaking at the occasion, President of PAT Punjab Basharat Aziz Jaspal said that there was no respect for life and honour of the people as things went from bad to worse without any check. He said that people were so fed up with the current system that if someone's car was stolen, he did not even bother to get the FIR registered.
Pundit Baghat Lal said in his remarks at the occasion that the politicians had looted this nation for last 67 years. He said that he and his community would support Dr Tahir-ul-Qadri for elimination of Yazidi system in the country. He said that the Hindu community of Pakistan considered Dr Tahir-ul-Qadri as their savior.