Dr Tahir-ul-Qadri condemns terrorist attack at Karachi airport and killing of pilgrims in Taftan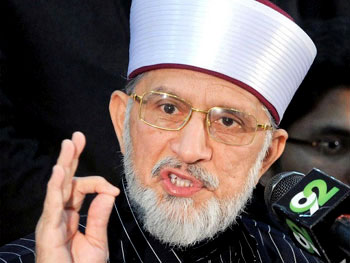 PAT leader Dr Muhammad Tahir-ul-Qadri has strongly condemned terrorist attack on Karachi airport and the killing of innocent people in Taftan (Balochistan). He has expressed his deep sense of grief and sorrow on the deaths of people martyred in both of these incidents. He expressed his sympathy with the bereaved families. He prayed to Allah Almighty to rest the departed souls in peace. He said that terrorism held sway in the entire country and the government's writ was not seen anywhere. He said that the government failed to put a halt to wave of terrorism and eradicate the menace from midst. He said that the actions of the present government had undermined the authority of the state.
Dr Tahir-ul-Qadri congratulated the Pakistan army, rangers and law enforcement agencies for flushing out terrorists after successful operation at the airport. He said that the conduct of the ministry of interior had hung the head of the nation in shame. He said that the rulers are on an agenda of destroying the state through corruption and lawlessness. He said that the country and people are at the mercy of terrorists. He asked if this is the state of security at the airports, what will be the state of the entire country.