Dr Tahir-ul-Qadri announces to return to Pakistan on June 23
Lodges advance FIR against 8 top people in case of any physical harm to him, his family and party workers during his arrival and stay.
Fears government can get any act of terrorism perpetrated.
Asks military to take over security arrangements of the Islamabad airport for one day
Says green revolution will end monopoly of a few families and include one million people in decision making.
Dr Tahir-ul-Qadri addresses press conference in Lahore through a video link from Canada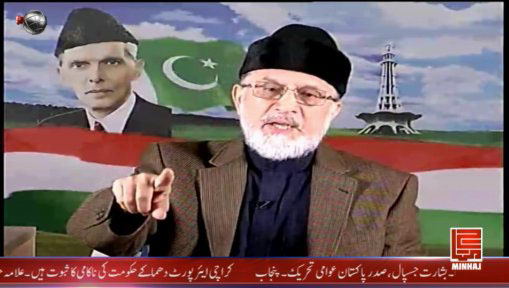 My fight is with anti-people system. I am returning to Pakistan on June 23 for the sake of 200 million Pakistanis by risking my life. I have no faith in the government. It can commit an act of terrorism. The military should take over security of the Islamabad airport for one day. If anything is done to me, my family, party office holders and workers during my arrival and stay in the country, Nawaz Sharif, Shahbaz Sharif, Chaudhry Nisar Ali, Khawaja Asif, Khawaja Saad Rafique, Pervez Rashid, Abid Sher Ali and Rana Sanaullah will be responsible. I am informing the judiciary and the armed forces in advance through this prior FIR against 8 people. My struggle is for saving the lives of Pakistanis, restoring smile and happiness on the faces of the poor, and putting in place a system of equality for all.
PAT leader Dr Muhammad Tahir-ul-Qadri expressed these views while addressing a press conference through a video link from Canada on June 11. He condemned the terrorist attack on Karachi airport in the strongest possible words and prayed to Allah Almighty to rest the departed souls of martyrs in peace. He also congratulated the brave personnel of the security forces for their fight to defend the motherland.
Expressing his reservations regarding security arrangements at the occasion of his arrival on June 23, Dr Tahir-ul-Qadri said that the rulers have contact with some of the terrorist organizations and they could use these groups to commit an act of terrorism during his arrival and stay in Pakistan, adding that it is for this reason that he has asked the armed forces to take control of security arrangements of the airport. He said that he lodged an advance FIR against 8 people in case any physical harm is done to him, his family, party leaders and workers during his arrival and stay in Pakistan. He said that an attempt was made at his life during the Islamabad Long March in 2013.
Dr Qadri said that his struggle is constitutional, legal and peaceful, insisting that revolution is the only way out of the problems facing the country. He said that revolution would end monopoly of a few families on power, include one million people in the decision-making, devolve powers to the grass-roots and enforce the Constitution of Pakistan in its true spirit. He said that this would lead to restoring happiness on the dull faces of the poor, providing security to the people of Pakistan, and putting an end to a system of injustice.
Dr Tahir-ul-Qadri said that fight against the system is not unconstitutional, adding that his fight is against anti-state and anti-people system. He said that our workers proved to the world that they are extremely peaceful. He, however, said if the government tried to baton-charge and torture my workers, the rulers should be mindful of the fact that the workers would not be wearing bangles.